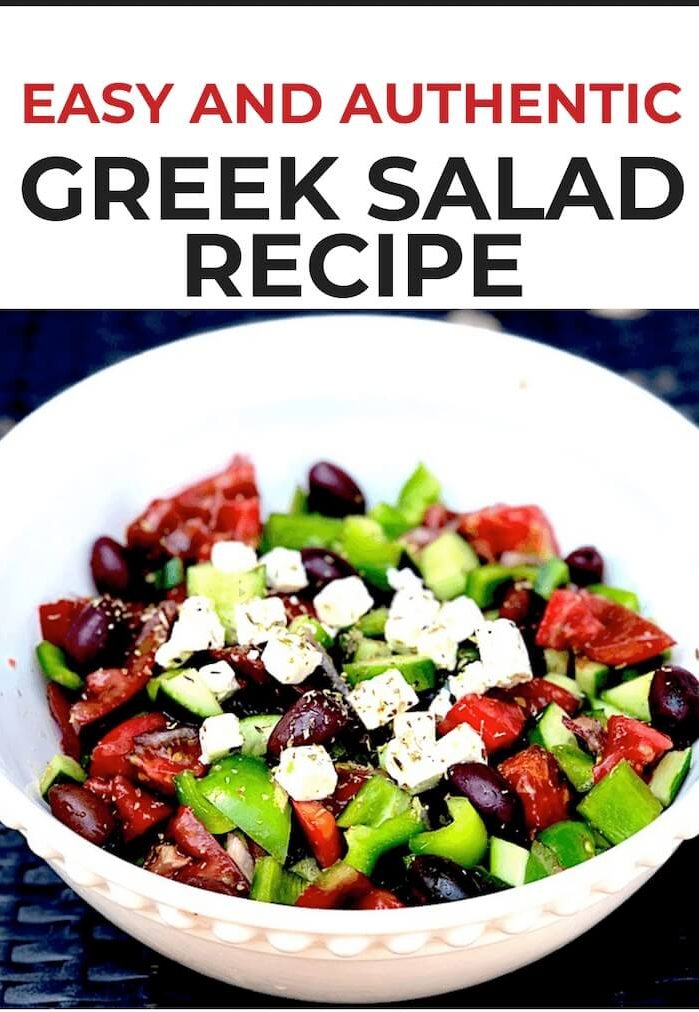 When we traveled to Greece, Greek salad was on the menu every day.   All of the Greek food we ate was delicious and the salads were some of the best we had ever had.  Fresh juicy tomatoes, crunchy bell peppers, crisp cucumbers- you get the idea!  When we got home Greek salad was on the family table often.
This recpe is super healthy (especially if you use sheep feta) and keto diet friendly.  Below you can see that this delicious salad can be made as a vegan Greek salad, Paleo Greek salad, or a chicken Greek salad.  Enjoy!
♥
Authentic Greek Salad Recipe
1 large cucumber, sliced in quarters lengthwise, remove seeds, slice
2 large tomatoes, chopped into bite-sized pieces, or 2 cups cherry tomatoes sliced in half
1 bell pepper, remove core & seeds, slice
1/4 of a red onion, sliced thin
1/2 cup Greek olives, (optional to slice)
Salt and Pepper to taste
Toss the ingredients above with the Greek salad dressing (recipe below.)  This can sit and marinate for up to 2 hours.
Just before eating, top with
1 1/4 inch slice per person of sheep feta cheese, or crumble
Sprinkle top with:
1 tsp. dried oregano
Option: you can serve this over 2-3 heads of chopped Romaine lettuce.
For Authentic Greek Salad, skip the lettuce.
*The amounts for the ingredients above can be varied, depending on your preference and how many people are eating.
Best Greek Salad Dressing Recipe
This is the best dressing for Greek salad (no need to mix, just pour straight on to the vegetables):
1/4 cup red wine vinegar
1/2 cup extra-virgin olive oil
pinch of salt
♥
Click here to get a beautiful white bowl to serve your Greek Salad
Click here to see the latest price on Amazon
♥
Click here for a knife to make a Greek Salad

See the latest prices on Amazon here
♥
Click here for a cookbook with authentic and healthy Greek recipes
See the latest price on Amazon here


♥
Vegan Greek Salad
Make it a vegan Greek salad, just leave off the cheese!
♥
Paleo Greek Salad
Make it Paleo by leaving out the cheese and adding chicken – a delicious meal in a bowl.  Just follow the directions above and add roast or grilled chicken breast.
♥
Ready for a Trip to Greece?  I am!  Check out my Greece Itinerary 7 Days
Get the Best Healthy Travel Snacks and Recipe for Paleo Bars and PB Bars For Kids
Try this Butter Mochi Cake Recipe