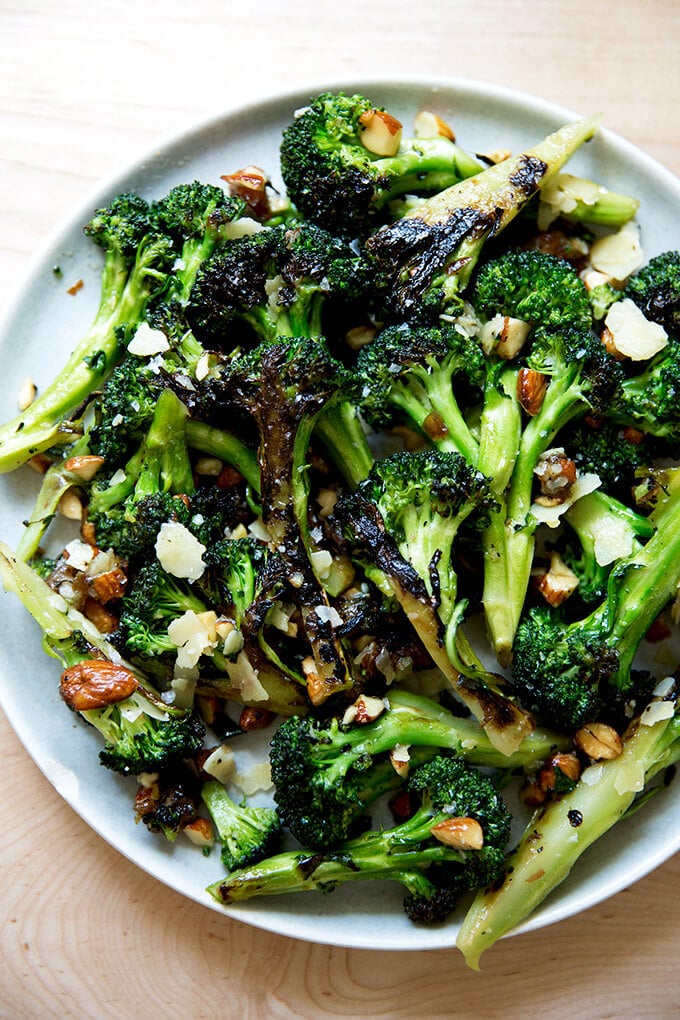 Carla Lalli Music's book, Where Cooking Begins, arrived at my door Tuesday. I made her charred broccoli salad for dinner that night, then again on Wednesday, and again on Thursday.
I always have broccoli on hand. It's a vegetable my children eat with little complaint: boiled, well buttered, well salted.
It's a vegetable that appears in our farm share in late summer, but I find it tastes good, even from the unpleasant grocery store, year round. Most often I roast it. I like it very charred.
In this recipe, the broccoli is charred but it's not roasted, and though the char resembles that from roasted broccoli, the texture is completely different. Carla, in the recipe notes, says: "Searing broccoli lets you straddle the line between raw and cooked."
Here, halved broccoli heads sear for about five minutes on one side and just one to two on the other. In the end, Carla says, "a cake tester should meet firm resistance when inserted into the thickest part of stem." The result is firm stalks with tender, charred florets.
When you first taste this salad, you may find it sturdier than you are used to. But as you continue to eat it, which I suggest you do with a fork and knife, I think you'll find the texture surprisingly nice, a refreshing change from fork-tender broccoli. I also think you may find the texture, after months of eating roasted vegetables, to be, in fact, perfect.
This is a great salad to make ahead of time or bring to a party as it holds very well and tastes even better with time: as it sits, the almonds, dates, and cheddar soak up the flavors of the dressing, a mix of olive oil, vinegar, and honey. The broccoli remains firm as time passes, but it, too, absorbs the dressing, becoming more flavorful.
Carla, if you are unfamiliar, is the food director of Bon Appetit. She's incredibly knowledgable and trustworthy — you may have unknowingly made one of her recipes — and she's a fun one to follow on Instagram. (Incidentally, I'm just learning, also on Youtube: This video with Queer Eye's Anotoni Porowski made me laugh.)
I've spent little time with Where Cooking Begins, which focuses on both techniques and recipes, but I have many pages and recipes flagged, and I sense it's a treasure, a collection of pearls amassed over many years from many sources: from her mother, who loved to cook, from work as a restaurant line cook, and finally from testing and creating recipes for Bon Appetit for over a decade. I'm looking forward to learning so much more. As always, I'll keep you posted.
Here's the play-by-play: Gather your ingredients. Small-ish broccoli heads are good for this one.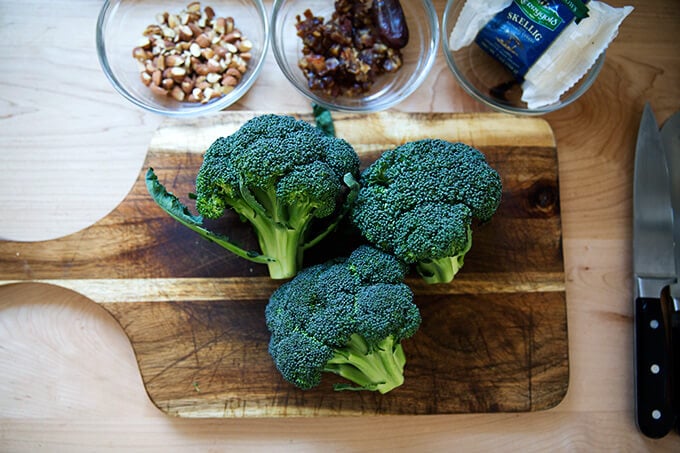 Halve them.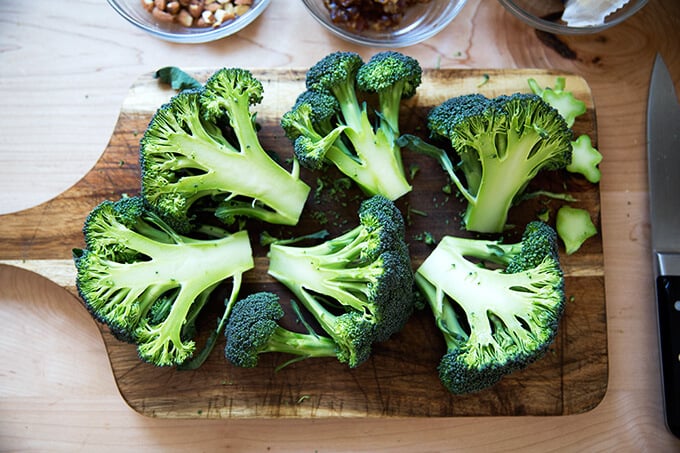 Sear them. Five minutes on the first side.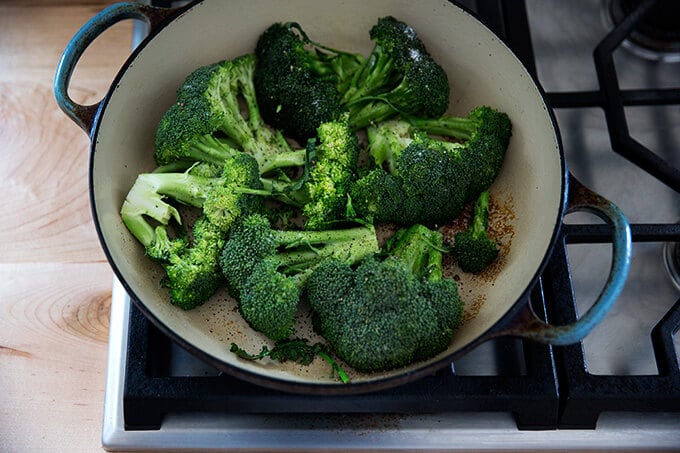 One to two minutes on the second side.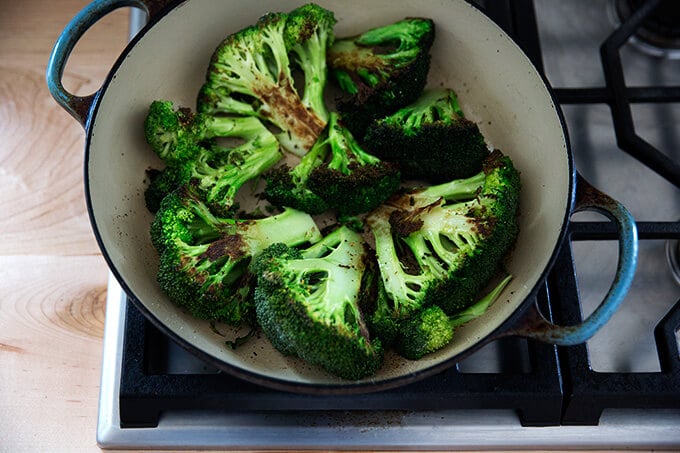 Once cool, cut them.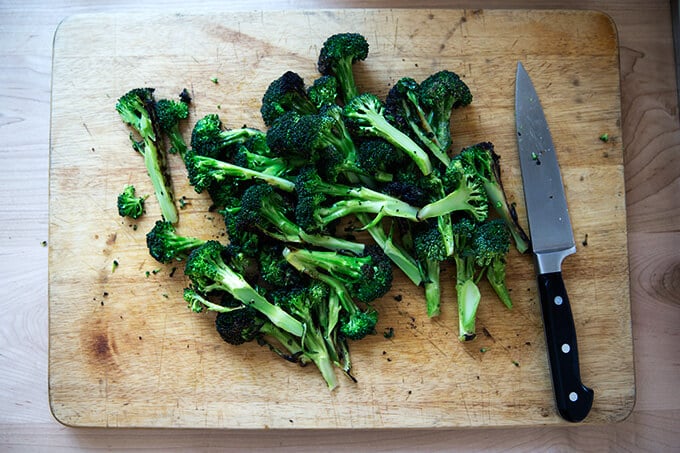 Chop some dates and almonds.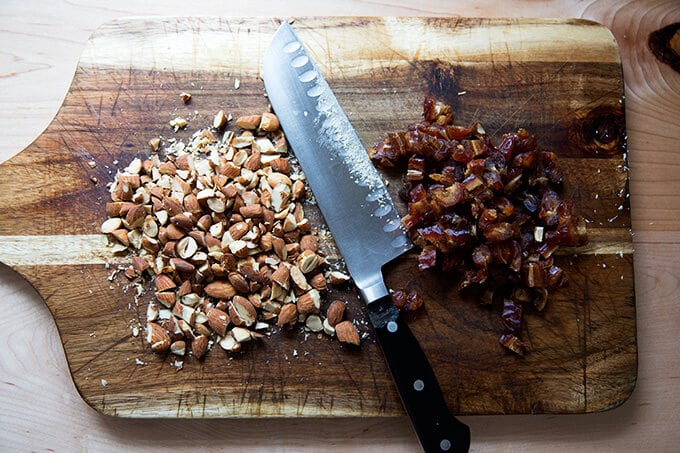 Dress the broccoli with salt, oil, vinegar, and honey. Toss. Add the dates and almonds.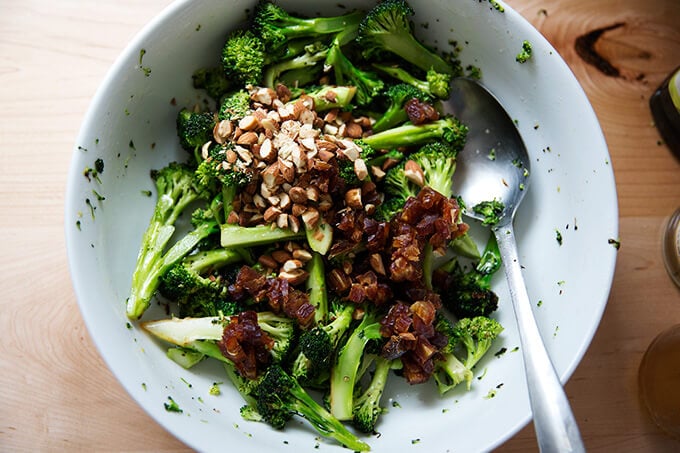 Toss again.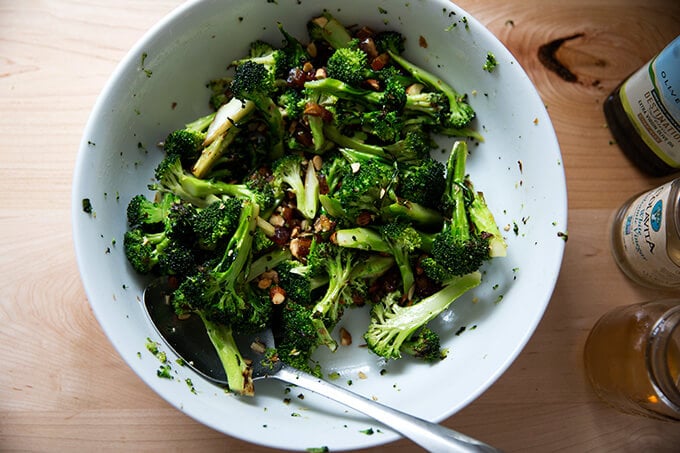 Shave in some cheddar.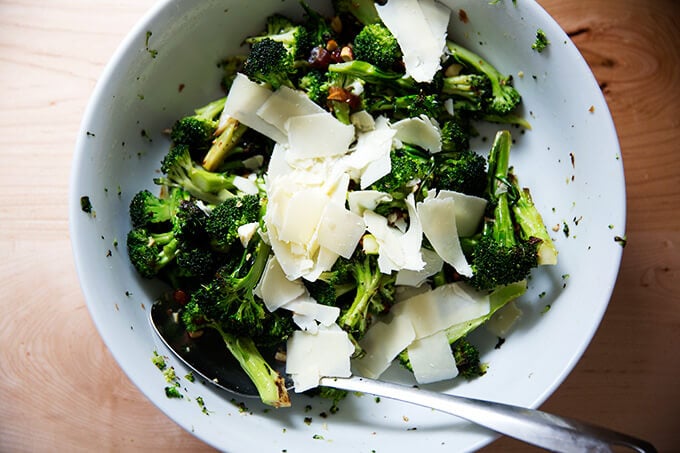 Toss and serve.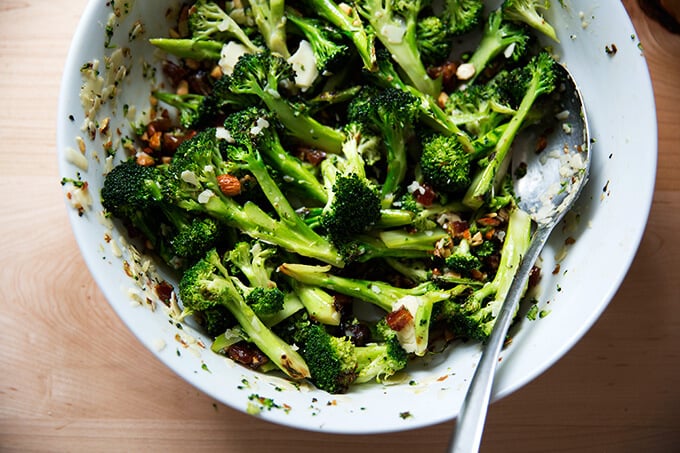 Carla Lalli Music's Where Cooking Begins.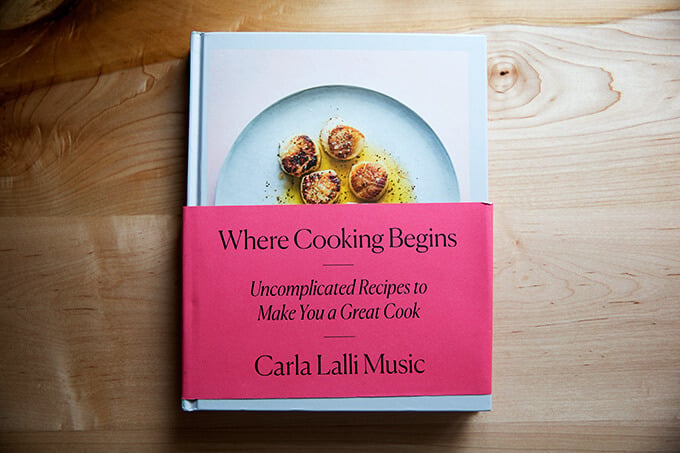 Print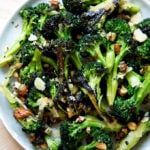 Charred Broccoli Salad with Dates, Almonds & Cheddar
---
Author:

Alexandra Stafford

Prep Time:

15 minutes

Cook Time:

7 minutes

Total Time:

22 minutes

Yield:

Serves 4
Description
From Carla Lalli Music's Where Cooking Begins
As noted in the post above, the broccoli in this salad is pan-seared, which allows the edges to get charred while keeping the stalks/bodies firm. I think you should make the recipe once as directed — the texture may be firmer than you are used to, but I think you'll find it really nice and refreshing as you eat it. If you find it too firm, next time, sear the broccoli for a longer amount of time on the second side.
I find small heads of broccoli work best for this salad.
This is a salad that can be tailored to your liking. Depending on the size of your dates, you may only need 4 or 5. You may find that the honey is unnecessary given the dates provide a nice sweetness. (I always add the honey.) If you can't find Marcona almonds, regular almonds are fine — I've been using roasted, salted almonds. Other cheeses could work in place of the cheddar, though the cheddar is really nice.
---
Ingredients
2

to

3

small broccoli heads, 1.25-1.5 lbs.
extra-virgin olive oil
kosher salt
freshly ground pepper

1 tablespoon

vinegar, such as apple cider or white balsamic, plus more to taste

1 teaspoon

honey or maple syrup, plus more to taste
nice flaky sea salt, such as Maldon, for finishing

5

to

6

Medjool dates, pitted and roughly chopped

1/2 cup

salted Marcona (or other) almonds, roughly chopped

2 ounce

s aged or sharp cheddar, shaved with a vegetable peeler
---
Instructions
Trim woody ends from broccoli stalks, then cut heads away from stems. Peel stems and halve lengthwise. Cut broccoli heads in half through the crown to create two lobes (don't separate into florets).
Heat a large skillet over medium-high heat. Add 2-3 teaspoons oil to pan. Place broccoli in skillet cut side down. Season all over with salt and pepper to taste. Cook undisturbed for about 5 minutes or until the undersides are well browned but broccoli is still crunchy — a cake tester should meet firm resistance when inserted into thickest part of stem.
Turn heads over onto floret size for a minute, just to lightly brown rounded sides, then transfer to a cutting board.
When cool enough to handle, cut broccoli heads and stems into 1/4-inch (or slightly larger) slices and transfer to a large serving bowl. Add the vinegar, 1 tablespoon olive oil and the honey. Season generously with sea salt. Toss. Taste. Adjust seasoning with more olive oil, vinegar, and salt to taste — I've consistently been adding at least another tablespoon each of oil and vinegar. And I find the broccoli can really handle the sea salt, so don't be shy — salt till it tastes good.
Add the almonds and dates and toss again. Add the cheddar and toss one final time. Serve immediately or let stand for hours before serving. This salad gets even better as it sits — the dates, almonds, and cheddar soak up the dressing, while the broccoli remains firm (while also absorbing the flavors of the dressing). This is a salad to be eaten with a knife and fork.
---
Category:

Side Dish

Method:

Stovetop

Cuisine:

American
Keywords: broccoli, dates, almonds, cheddar, charred, salad