This Crunchy Asian Ramen Noodle Salad recipe is quick and easy to make, tossed with a simple sesame vinaigrette, and perfect for picnics and potlucks!

Alright, show of hands.
Who else grew up eating ramen noodle salad? ? ? ?
Chances are that if you grew up in the Midwest, this salad crossed your path at least a time or two.  My mom used to make it regularly when we were kids, and brought it along to every potluck, picnic, and church function imaginable.  And we always, always came home with an empty bowl.
What can I say — people love this salad!
That said, the original version that we made back in the 90s was a little more full of processed ingredients and sugar than I like to eat nowadays.  So a few years ago, I gave my mom's recipe a few modern updates and shared it on blog.  But even in the years since then, I've actually made a few more updates — including making it with healthier ramen noodles (and even gluten-free ramen noodles, if needed), and adding in some extra veggies.  So since we're entering the prime of potluck and picnic season, I thought I'd share it with you once more.  Because no matter the decade, I've found that people go absolutely nuts for this salad.  And it's downright delicious.
Crunchy Asian Ramen Noodle Salad Recipe | 1-Minute Video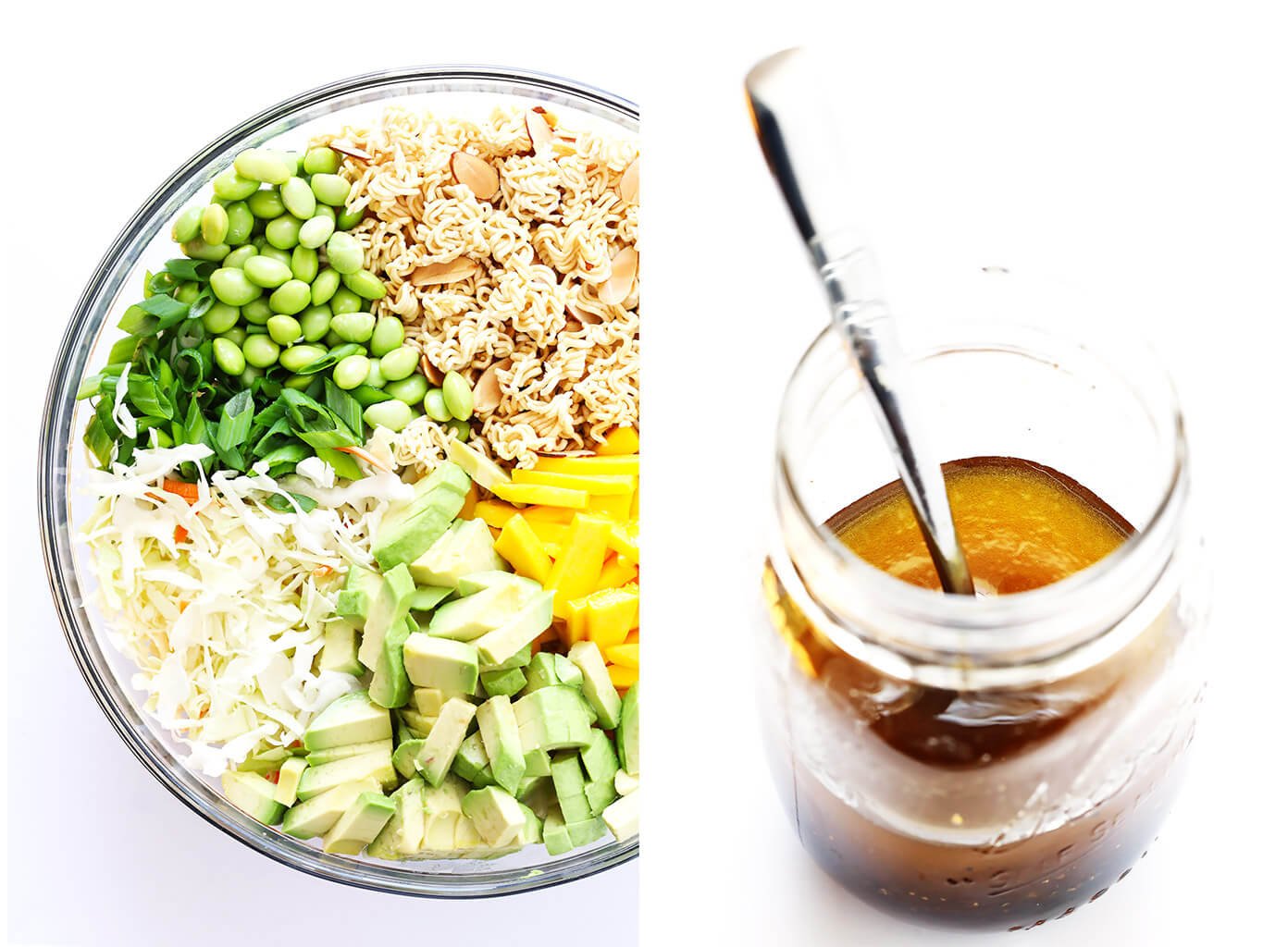 Back in the day, this salad used to simply be made with:
cole slaw mix
sliced almonds
sliced green onions
a vegetable oil / white vinegar / white sugar vinaigrette
canned mandarin oranges
…and the noodles from those classic $0.29 ramen noodle packets
Nowadays, I still stick with the cole slaw mix (organic), green onions and almonds.  But I also like using (affiliate links included):
avocado
fresh mango (instead of the mandarin oranges with added sugar)
edamame
…and then I like to use these healthier organic ramen noodles or these gluten-free ramen noodles
Plus, my yummy go-to vinaigrette for this salad now uses:
avocado oil (or any mild-flavored oil you'd like)
rice vinegar
honey (or your desired sweetener)
soy sauce
toasted sesame oil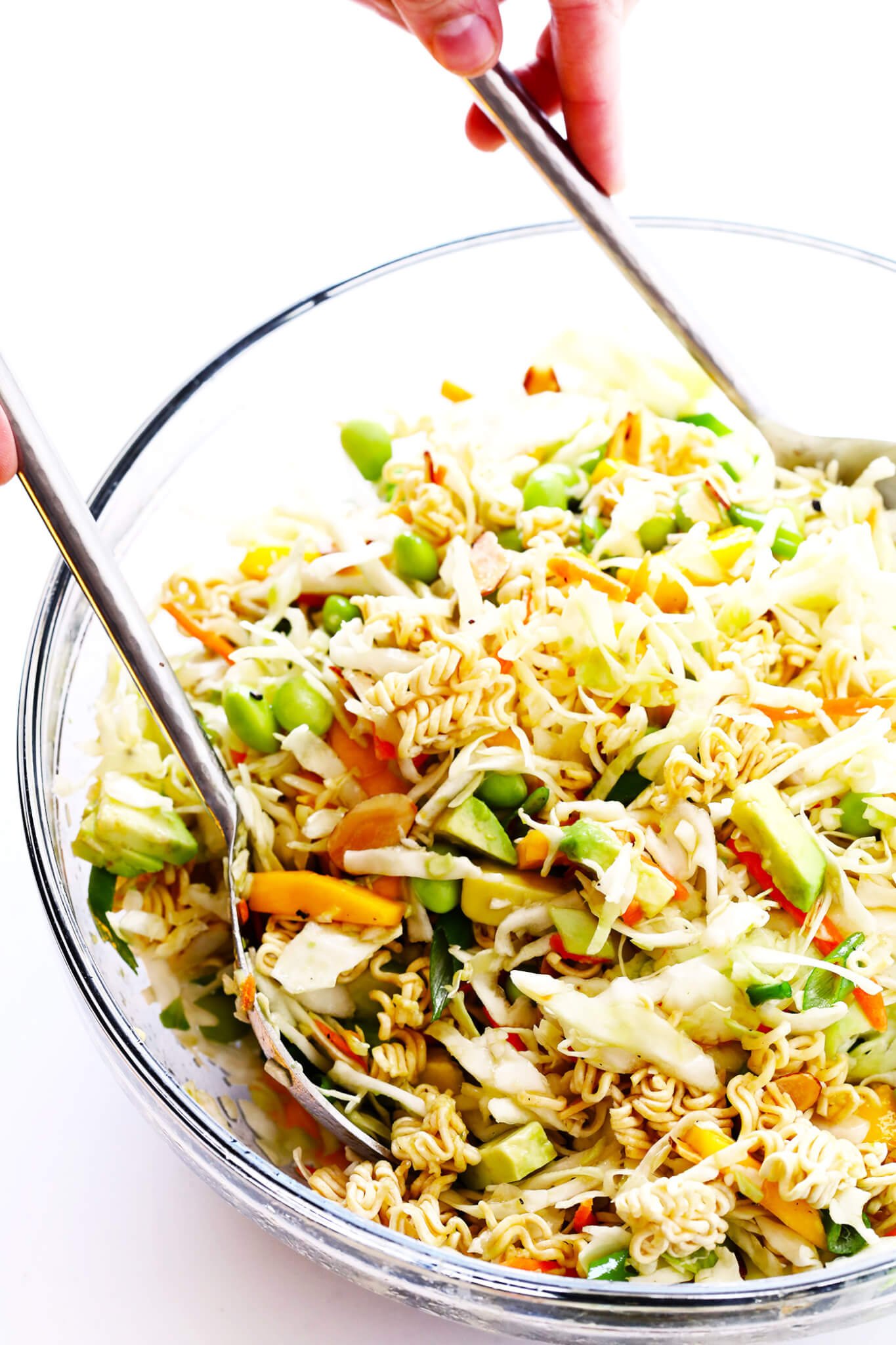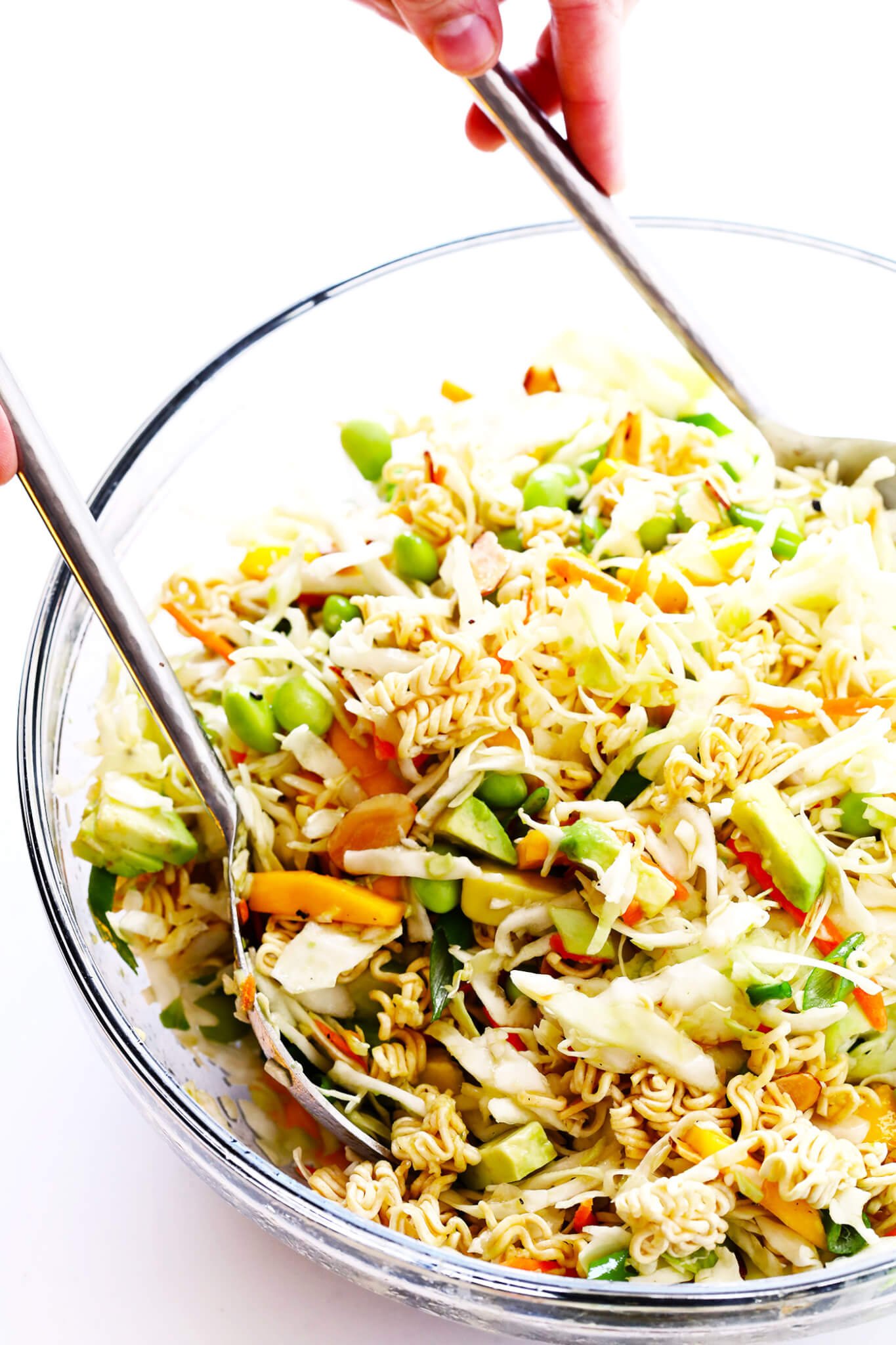 To make the salad, I recommend spreading the ramen noodles and almonds out on a baking sheet and toasting them for about 10 minutes until lightly golden.  (<– Tip from my mom!)  Then add all of your ingredients to a large mixing bowl, drizzle on the vinaigrette, give everything a good toss…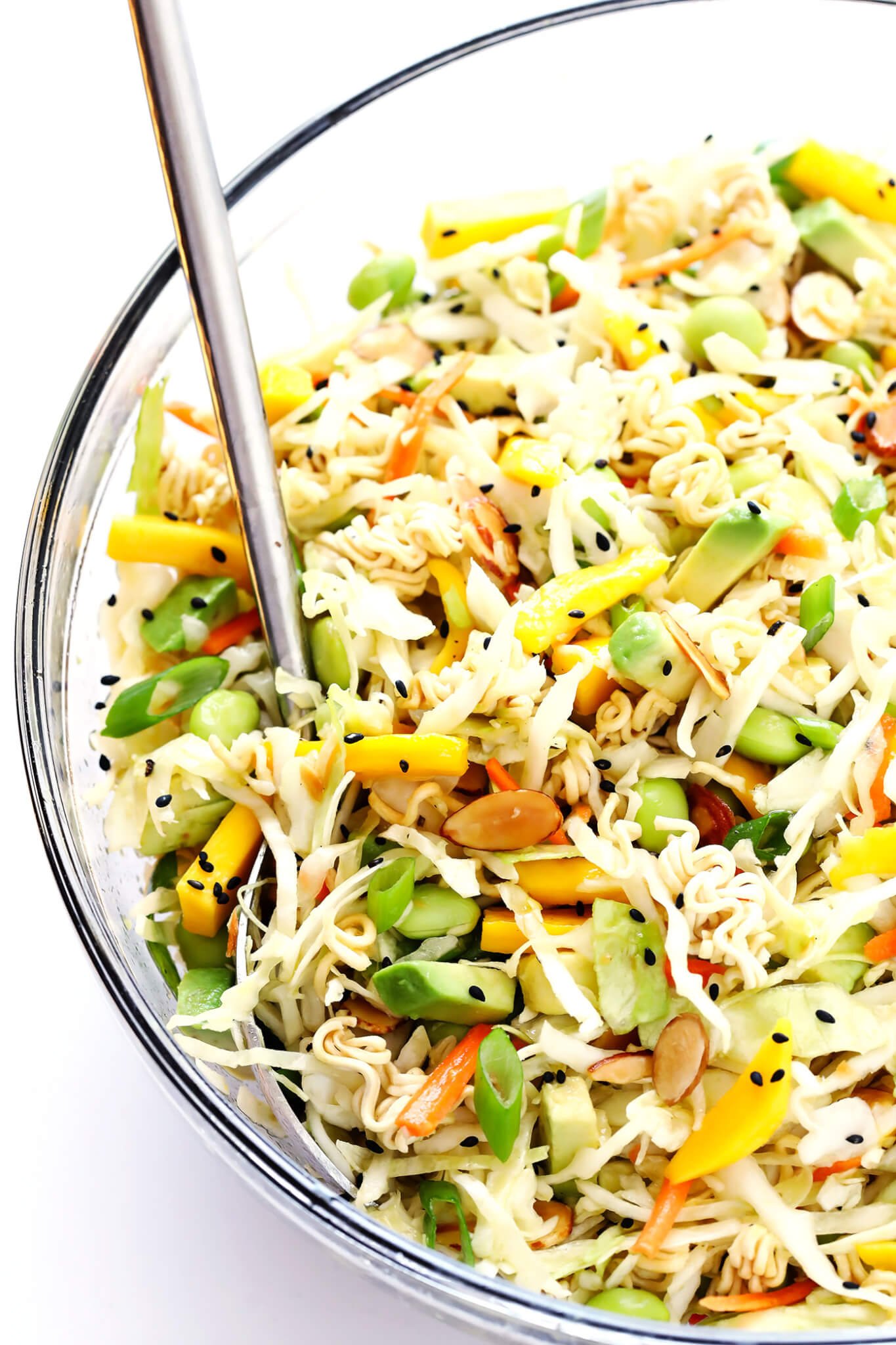 And in no time, this delicious salad will be yours to share and enjoy!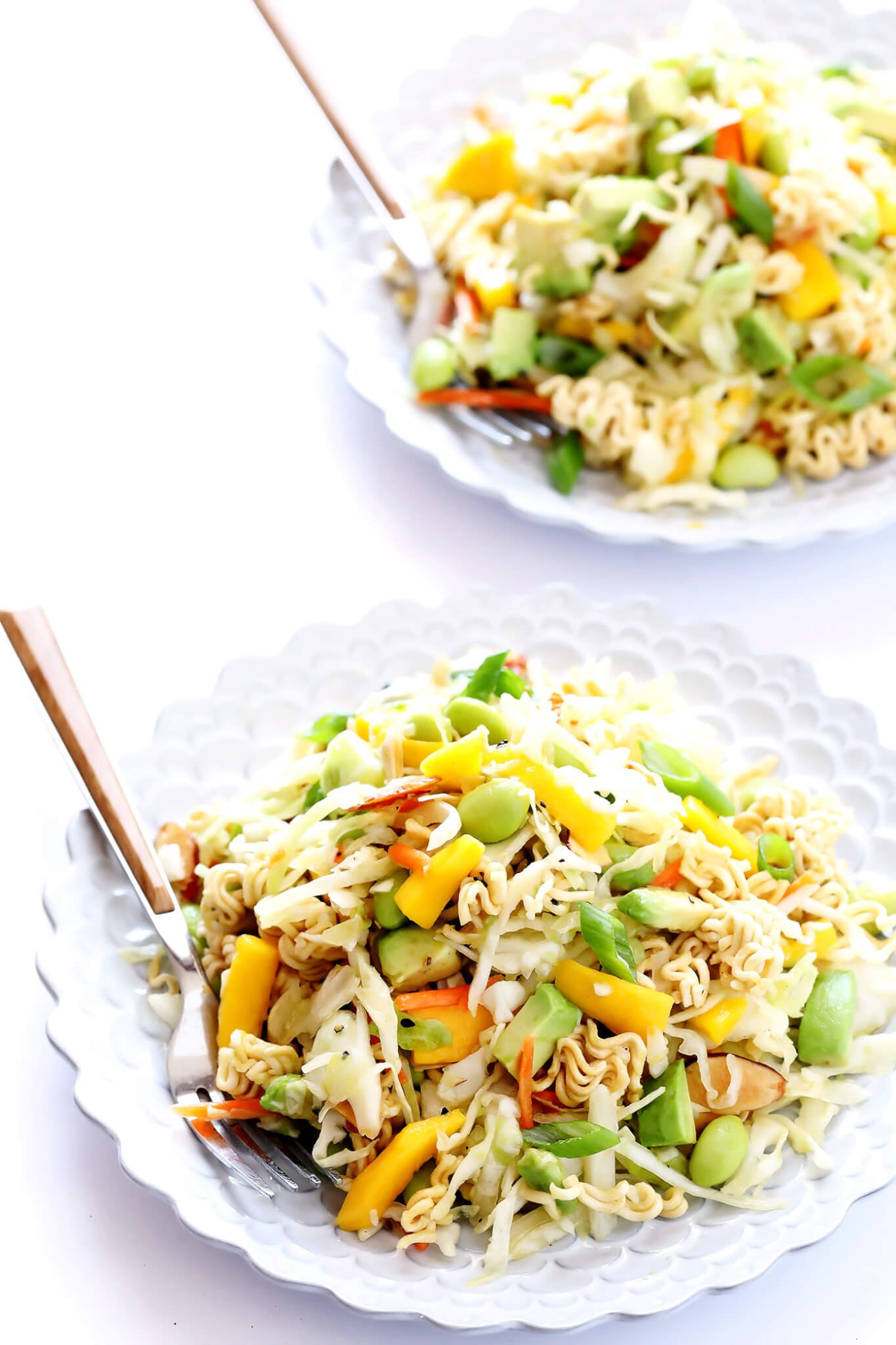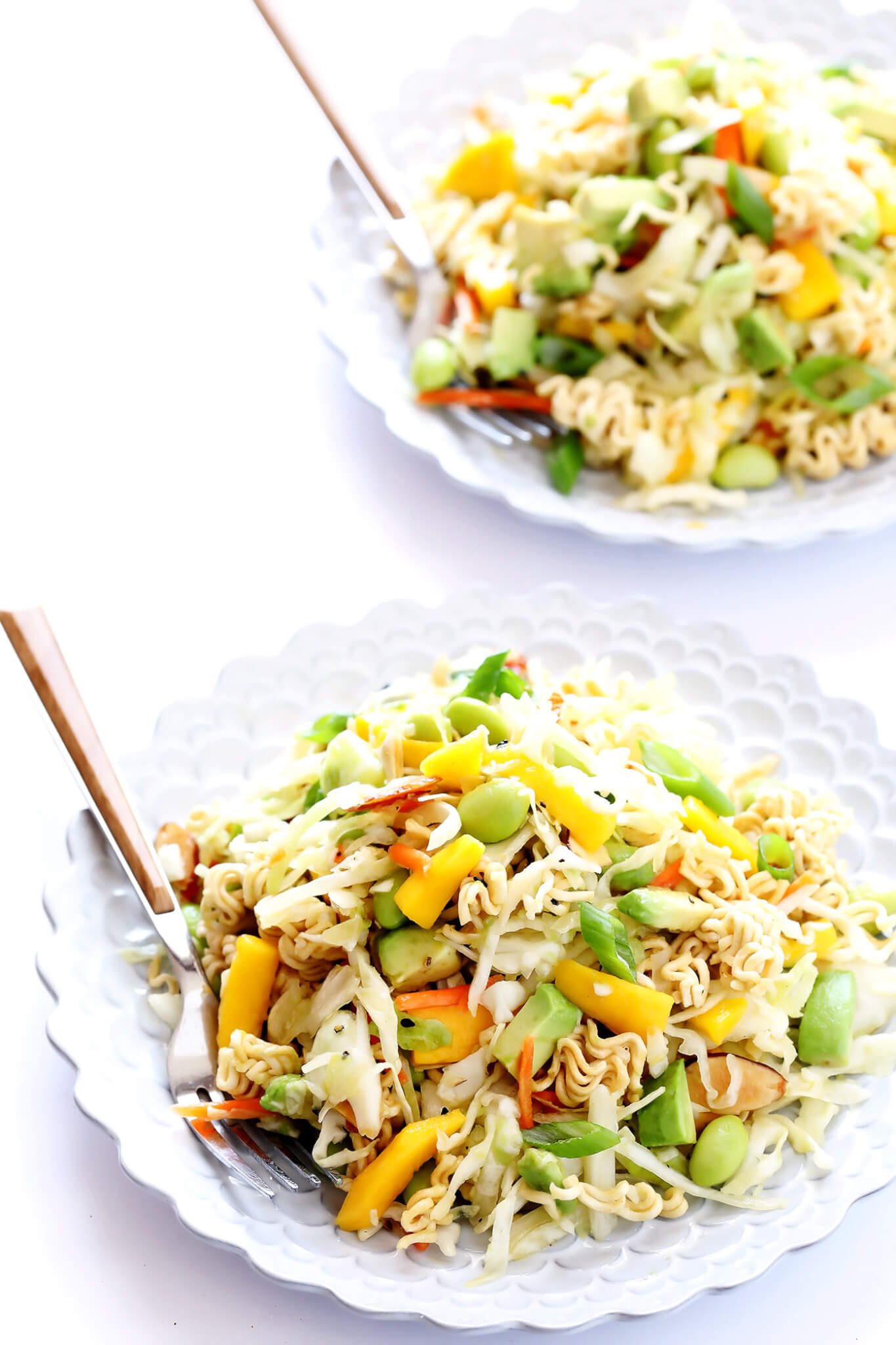 It's still just as perfect as ever for picnics, potlucks, or church basement functions…or anytime you need a good salad in your life.  ;)
Enjoy, everyone!
Print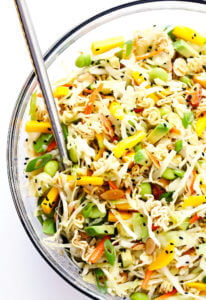 Crunchy Asian Ramen Noodle Salad (a.k.a. Basically the Best Potluck Salad EVER)
Prep Time:

10 minutes

Total Time:

10 minutes



Yield:

0

About 8 servings

1

x
---
Description
This delicious Crunchy Asian Ramen Noodle Salad recipe is tossed with a simple sesame vinaigrette…and tastes absolutely delicious!
---
Scale
Ingredients
Salad Ingredients:
1

(16-ounce) bag coleslaw mix

2

(3-ounce) packages of ramen noodles*, crumbled (you will not use the seasoning packet)

1 cup

shelled and cooked edamame

1

avocado, peeled, pitted and diced

1

mango, peeled, pitted, and julienned (or diced)

1/2 cup

thinly-sliced almonds

1/2 cup

thinly-sliced green onions (scallions)
Asian honey vinaigrette (see ingredients below)
Asian Honey Vinaigrette
1/2 cup

 avocado oil (or vegetable oil, or any cooking oil)

1/4 cup

honey (or your desired sweetener)

1/4 cup

 rice vinegar

2 teaspoon

s soy sauce

1/4 teaspoon

 toasted sesame oil
pinch of salt and black pepper
---
Instructions
To Make The Salad:
Heat oven to 425°F. Spread the crumbled ramen noodles and sliced almonds out on a baking sheet, and stir a bit to combine. Bake for about 5 minutes, or until the almonds and noodles are slightly toasted and golden. Remove baking sheet, and give the mixture a good stir to toss. Then return it to the oven and toast for an additional 3 minutes. Keep a very close eye on the mixture so that it does not burn. Remove and set aside.
Add ingredients (including the vinaigrette) together in a large bowl, and toss until combined.
Serve immediately, or cover and refrigerate for up to 3 days. (This salad is much better eaten the first day, as the noodles lose their "crunch" the longer it sits, and the avocado may brown a bit. Still, it's perfectly edible and enjoyable even after a few days!)
To Make The Vinaigrette:
Whisk all ingredients together until combined.
---
Notes
*You can use any kind of packaged ramen noodles for this recipe.  If you'd like organic (and less-processed) alternatives to the classic $0.30 packets at the grocery store, I recommend these organic classic ramen noodles or organic brown rice ramen noodles.
**I also like sprinkling mine with some toasted sesame seeds (I used black sesame seeds in the photo), but that's totally optional.