Easy chickpea salad recipe with lemon, fresh dill, crisp cucumber and tomatoes that's quick to make and you can make it in advance. Jump to the Easy Chickpea Salad Recipe or watch a quick recipe video showing you how we make it.
Watch Us Make The Salad
I love this chickpea salad because it's so easy to make! You are looking at about 15 minutes, and you're in chickpea salad heaven. We're also pretty big fans of chickpeas around here. We've already shared our homemade hummus recipe, these honey roasted chickpeas, and this simple quinoa and chickpea salad with veggies.
How to Make the Best Chickpea Salad
Chickpeas are a versatile base for salads. They are nutritious, taste great, and inexpensive. To make the best chickpea salad, keep these tips in mind:
Use quality chickpeas. You can use canned chickpeas — buy a brand you like (I love Eden Organic canned beans). Or you can cook dried chickpeas yourself. It takes a bit of time, but they keep in the fridge and freezer for a while. If you're interested in cooking dried chickpeas from scratch, take a look at our in-depth tutorial for how to cook dried chickpeas.
Add vegetables for color and texture. In this salad, we use lots of sweet tomatoes and crisp cucumbers. Any variety of cucumber works, but I usually buy the seedless variety (often sold wrapped in plastic) or the smaller, thin-skinned cucumbers (often sold as Persian cucumbers). I like these because you don't need to peel or remove seeds. If you're using thicker-skinned cucumbers, give them a peel.
Use a bright and flavorful salad dressing. Chickpeas are a fantastic salad base, but they don't have much flavor by themselves. That's why we love tossing them with an ultra-flavorful dressing. As the salad sits, the chickpeas absorb the dressing and get more and more delicious over time.
Use lots of fresh herbs. We reach for lots of fresh dill, but most tender herbs will work here. Think about mint, parsley or a combination of herbs.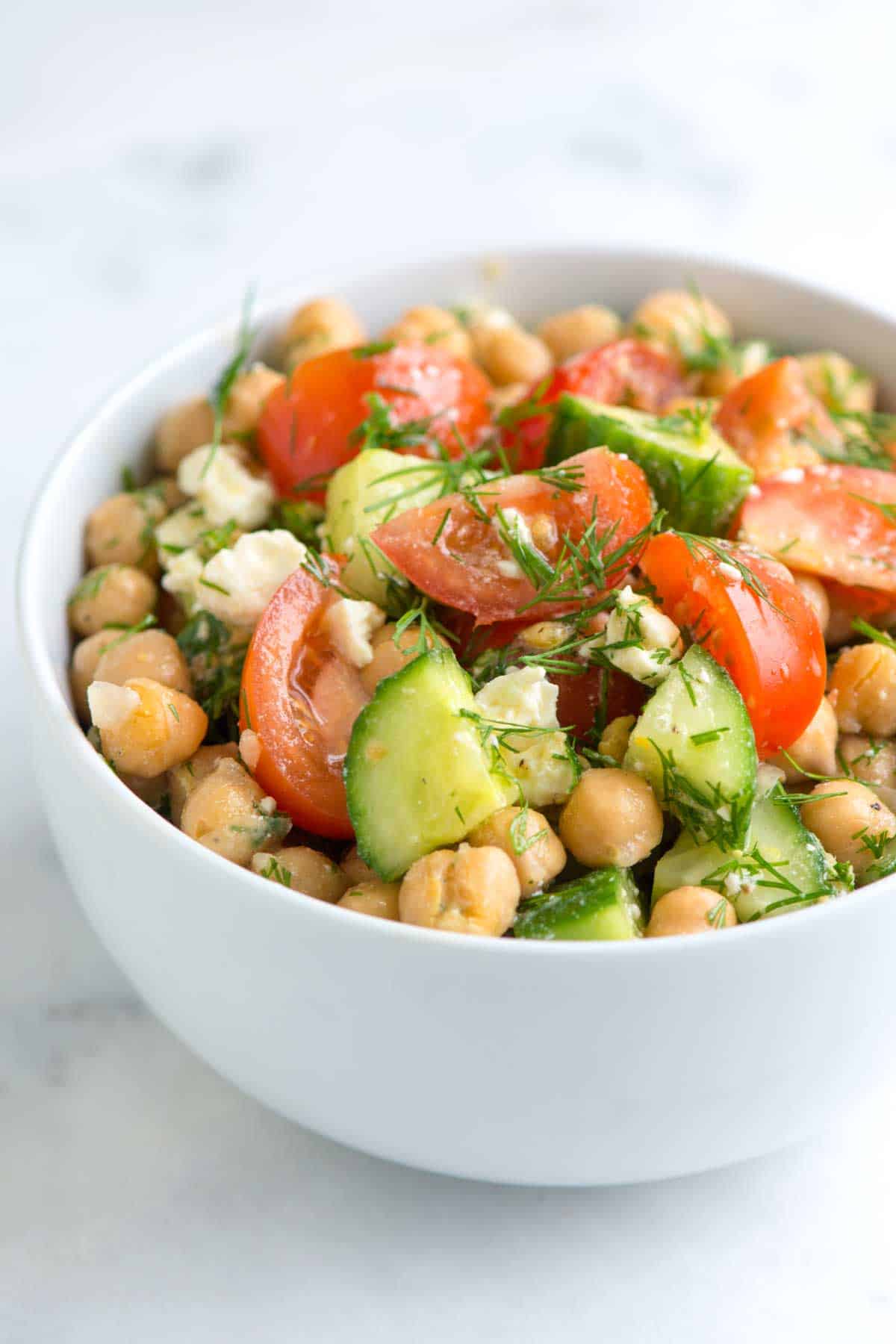 Our Favorite Chickpea Salad Dressing
Introducing our favorite salad dressing. It makes just about anything taste better. The dressing is simple, fresh, and seriously one of the most made recipes in our kitchen.We also use this dressing to make our couscous salad — everyone loves it! Here's what goes into our salad dressing:
Fresh lemon juice lightens up the salad and makes all the ingredients taste fresh.
Extra-virgin olive oil balances the lemon and makes the dressing creamy.
Dijon mustard adds a little tang.
Honey balances out the lemon and mustard.
Salt and pepper help to season the salad — a must!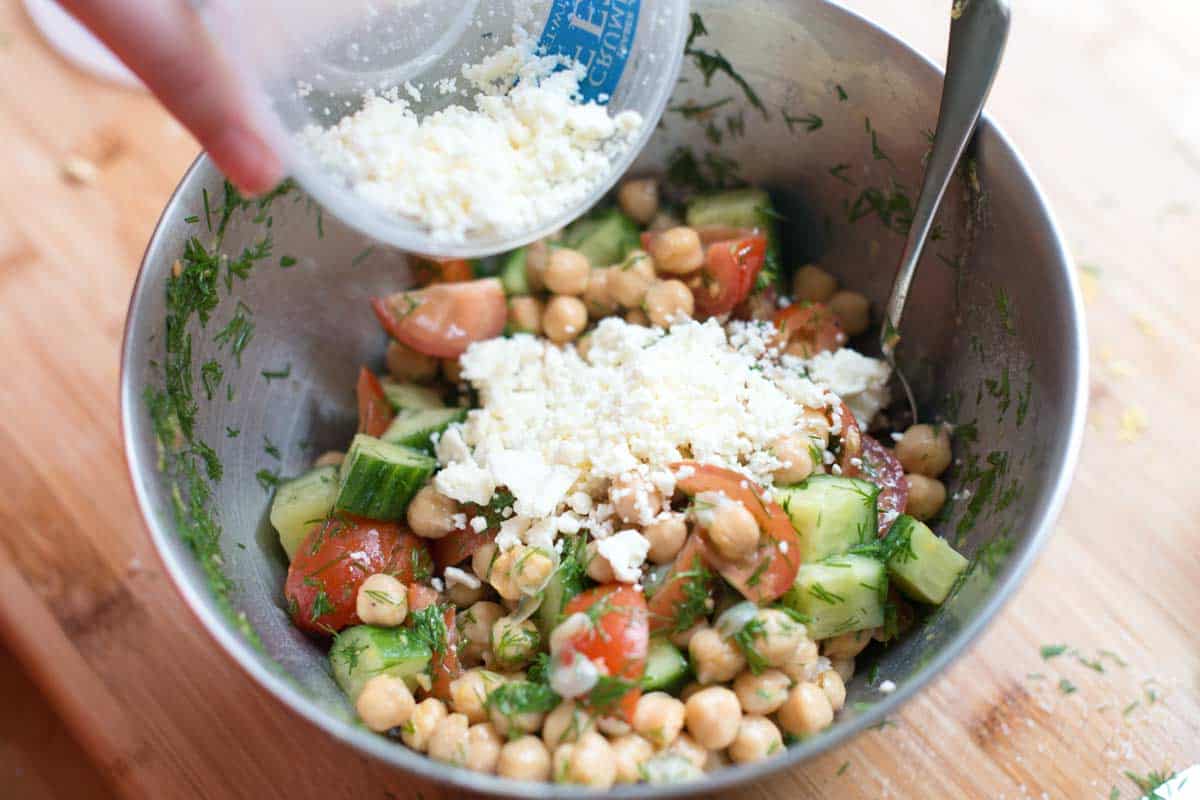 Make Ahead Tips
As I mentioned above, you only need 15 minutes of hands-on time to make this, which helps to make this one of my favorite salads on Inspired Taste.
The other reason I love it is that it tastes even better when it made in advance, making this a perfect make-ahead salad.
You can get away with making this an entire day in advance and if you want it to last even longer, keep the tomatoes off to the side. The tomatoes break down a bit too much for me on day two, but prepping them and keeping them in a container next to the salad deals with that. Then when you want to eat the salad, throw in a handful of tomatoes, and you're set.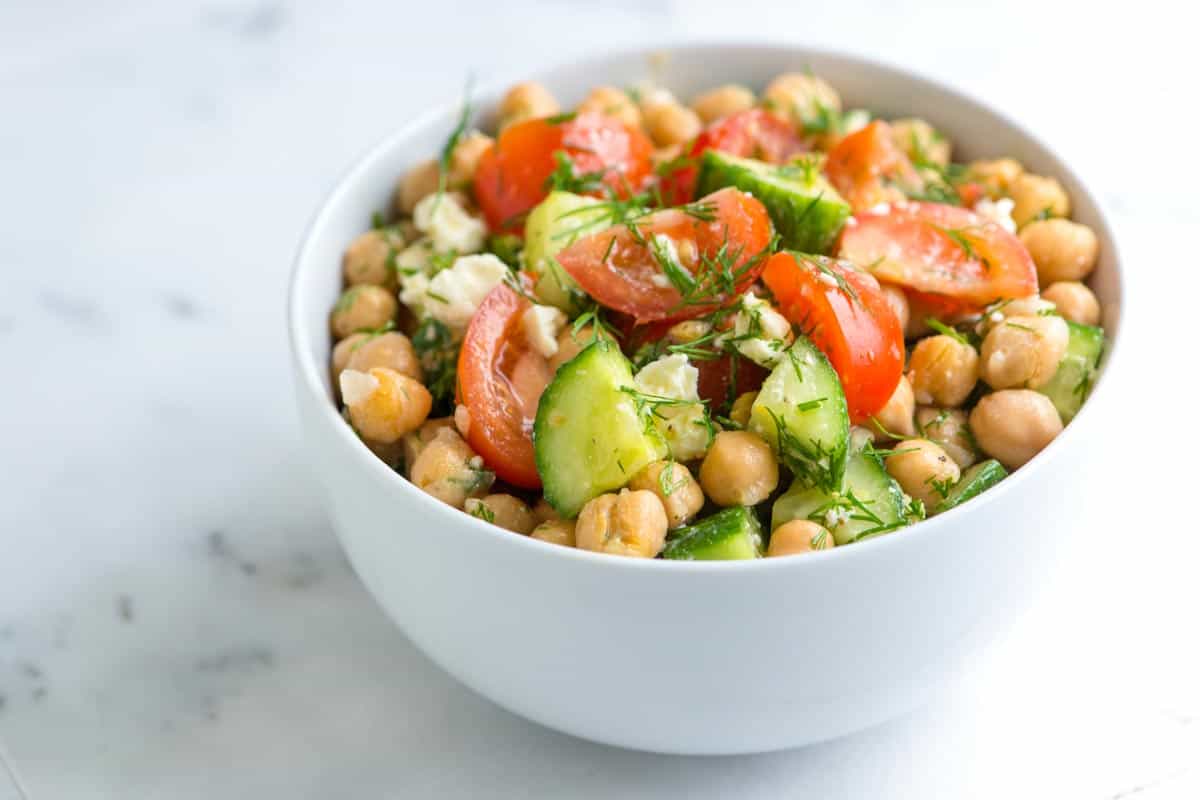 Recipe updated, originally posted December 2012. Since posting this in 2012, we have tweaked the recipe to be more clear and added a quick recipe video. – Adam and Joanne