This Fruity Curry Chicken Salad recipe is just the thing to serve for a light dinner or lunch.  Bring it along on a picnic, or feature this curry chicken salad at a tailgate party too!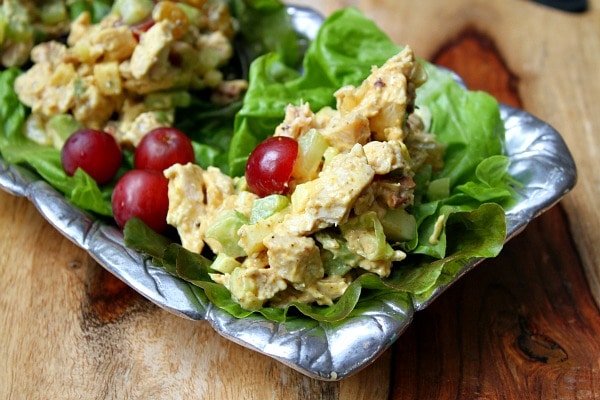 Curry Chicken Salad
Curry chicken salad is one of those kinds of recipes that you might think you DO NOT LIKE.  Think again.  This recipe has just a touch of curry in it.  It's not overwhelming, and it's the perfect light dressing to coat the fabulous ingredients that make up the salad.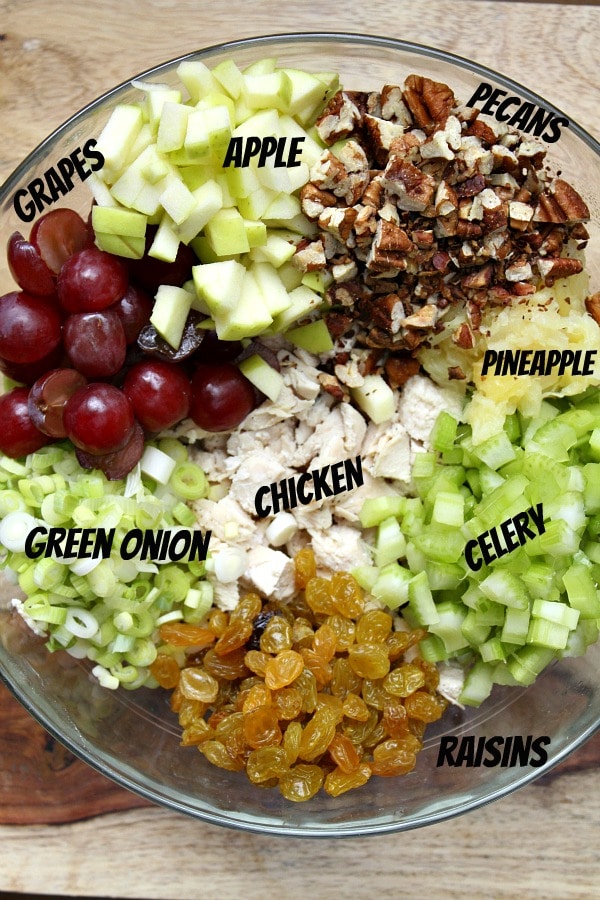 Fruity Curry Chicken Salad recipe
A friend of mine gave me this Fruity Curry Chicken Salad recipe when we were living back in Reno.  It was a hit with her family, and it has always been a hit with mine as well.
This is all of the good stuff it has in it.  You'll see plenty of sweet fruit- golden raisins, apples and crushed pineapple.  And there's a good deal of crunch in the salad too with added celery and toasted pecans. I'm sure you can pick and choose and substitute a little bit here and there if all of the ingredients don't suite your taste.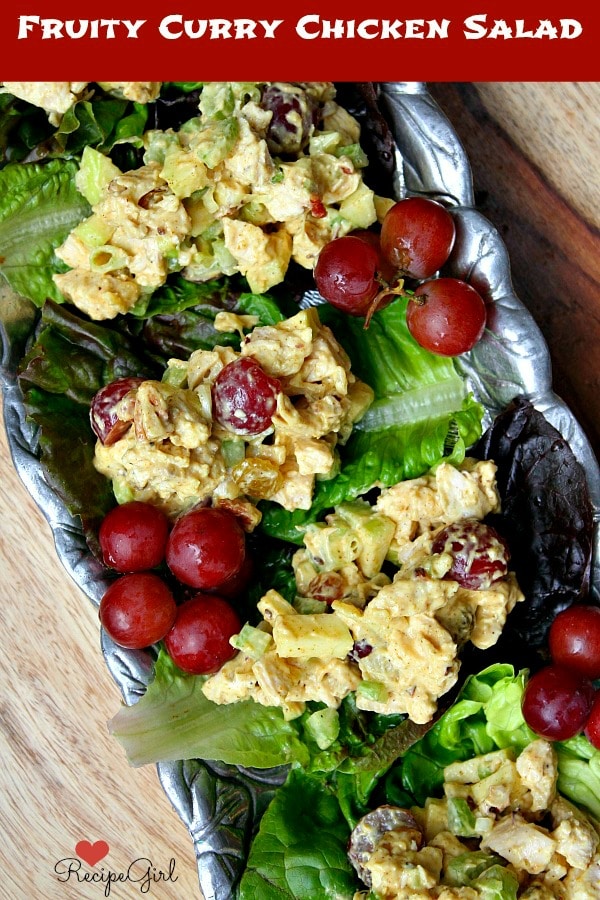 I serve this curry chicken salad a couple of ways at my house.  The girls in the house usually choose to spoon it over lettuce leaves and eat it as you would lettuce wraps.  The boys prefer to tuck it in between two bread slices or inside a pita and call it a sandwich.  Either way… YUM.  It's crunchy and fruity, and it has some really nice flavors going on.  Leftovers are always great for a couple of days too.
Click below to watch a short video showing you how to make this Fruity Curry Chicken Salad recipe:
Here are a few more chicken sandwich recipes you might enjoy:
Crunchy BBQ Ranch Grilled Chicken Wraps by Recipe Girl
Chicken Cheese Steak Sandwiches by Recipe Boy
Italian Chicken Cutlet Sandwiches by Recipe Girl
Homemade (Baked) Chik-fil-A Sandwiches by Barefeet in the Kitchen
Fruity Curry Chicken Salad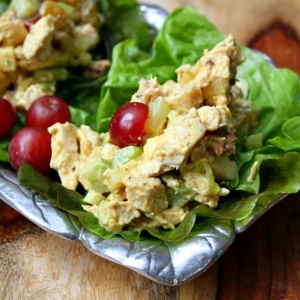 Yield:
6 to 8 servings
Prep Time: 20 minutes
Ingredients:
SALAD:
About 2 cups cooked and diced chicken breast
3/4 cup halved red grapes
1/2 cup diced celery
1 medium Golden Delicious apple, diced
1/2 cup chopped, toasted pecans
1/3 cup golden raisins
4 green onions, chopped
3 tablespoons crushed pineapple
DRESSING:
3/4 cup mayonnaise (light is okay)
1 tablespoon soy sauce
1 1/2 teaspoons curry powder
1/8 teaspoon ground pepper
FOR SERVING:
lettuce leaves (butter lettuce works well) or bread
Directions:
Place salad ingredients in a medium bowl.
In a separate bowl, whisk together the dressing ingredients. Add the dressing to the salad and mix well. Chill until ready to serve (or serve immediately). Scoop onto lettuce leaves for serving. The chicken salad may also be spread between two slices of bread or onto a croissant and served as a sandwich.
Tips:
If you are preparing this recipe as gluten-free, just make sure you use brands of canned pineapple, mayonnaise and soy sauce that are known to be gluten free. Serve on lettuce leaves or gluten-free bread.
Nutrition:
4 WEIGHT WATCHERS Freestyle SmartPoints per serving (based on 8 servings... served in lettuce wraps)
SOURCE: RecipeGirl.com