This versatile Mexican Three Bean Salad is delicious all on its own, tossed in a big green salad, or stuffed inside tortillas with grilled chicken or shrimp.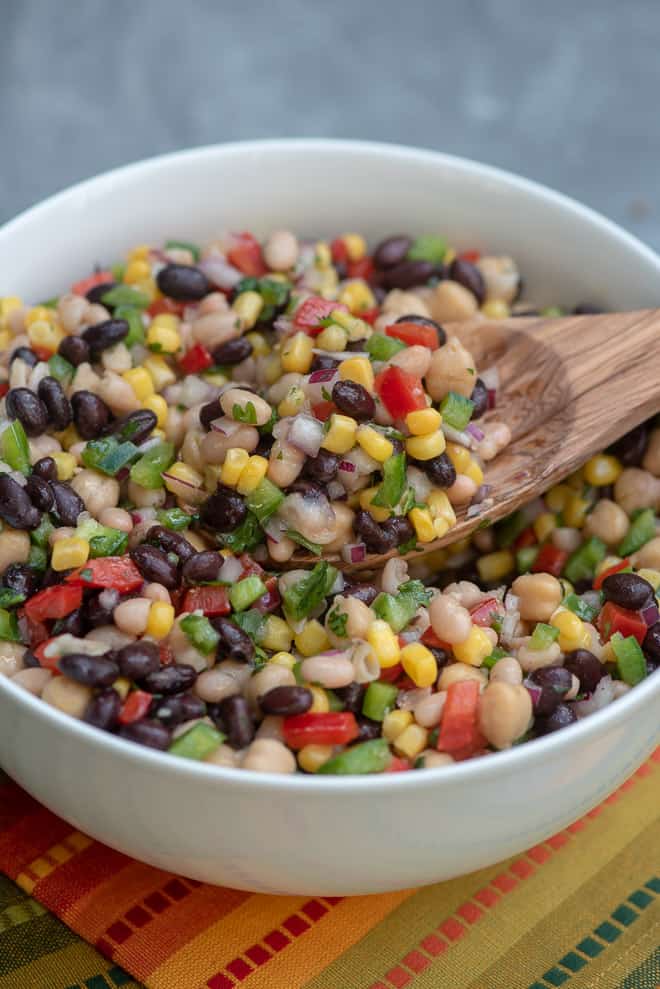 I'm always happy to find new ways to incorporate beans and veggies into family-friendly meal and this Mexican Three Bean Salad is a truly delicious way to do it.
But it doesn't stop there.
This make-ahead dish can be used in a variety of ways which means leftovers are never a problem.
The Ingredients: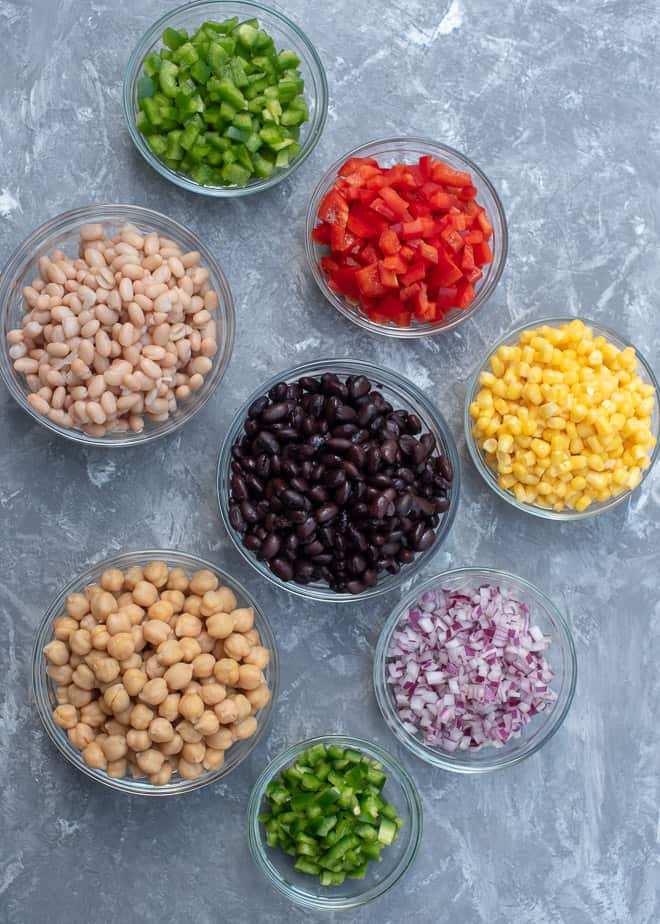 It starts with canned beans, frozen corn, red and green bell peppers, red onion, and jalapeno.
A variety of beans would work really well in this recipe but I went with black, white, and garbanzo beans. Switch it up and add your favorites – kidney, pinto, or cannellini beans would all work well.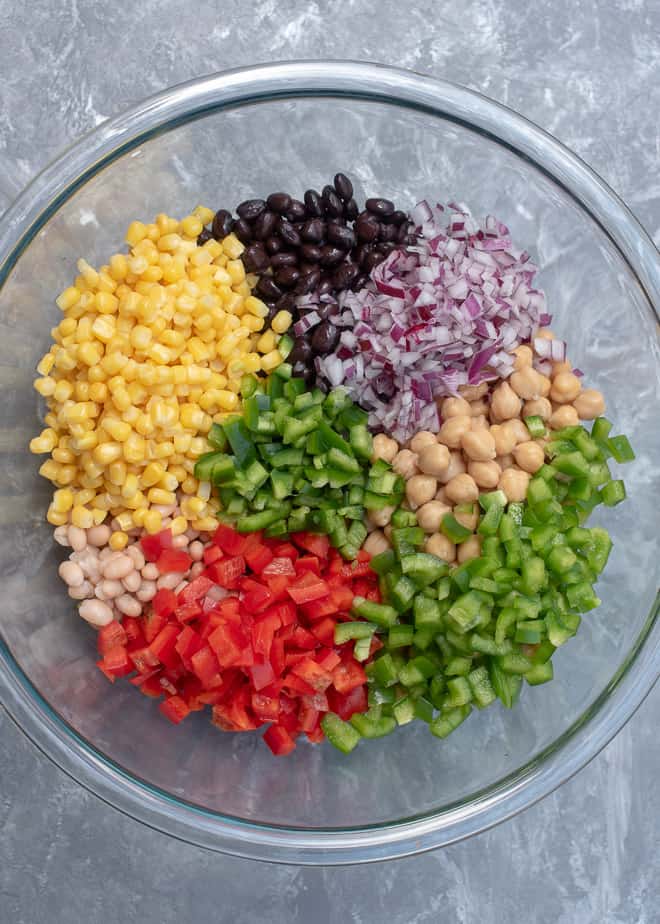 Once the veggies are diced and the beans are rinsed and drained well, just toss everything together in a large mixing bowl.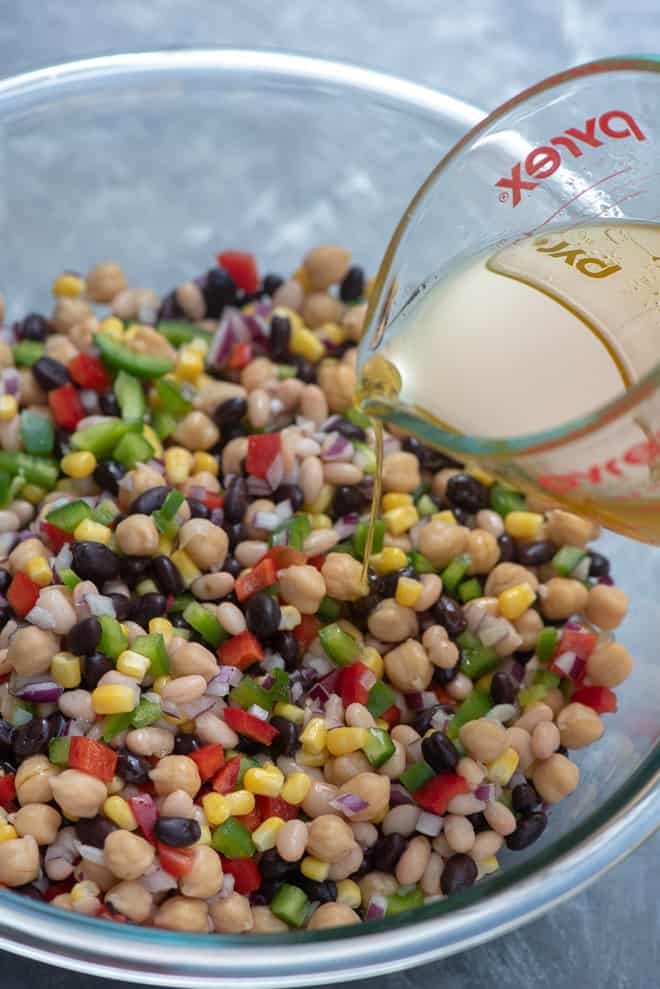 The dressing is based on dressing I do for my classic Homemade Three Bean Salad but I threw in a little Mexican flair with a touch of cumin and fresh lime juice.
The salad is at its best after it marinates in the vinegary, slightly sweet dressing for a couple of hours.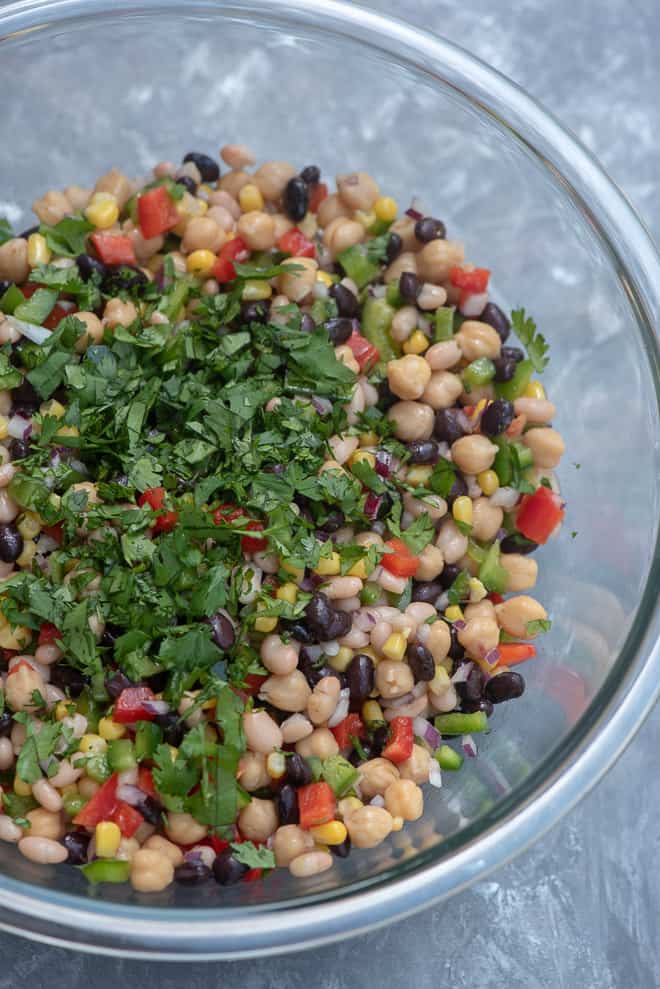 Since I've got a bunch of cilantro lovers I tossed some in before letting it chill. The cilantro really drives home the Mexican flavor profile and pairs perfectly with the dressing, but you can opt for fresh Italian parsley for an herby boost if you've got cilantro objectors on your hands.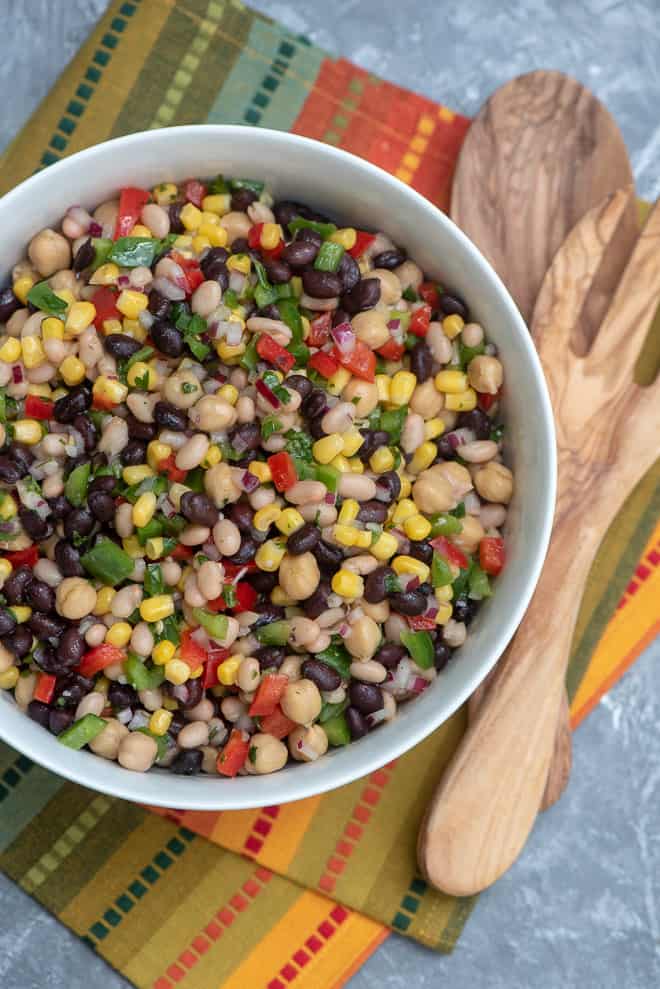 How to Serve Mexican Three Bean Salad
As an appetizer with tortilla chips for dipping.
Along with grilled chicken, steak or seafood for an super easy, wholesome dinner.
Tossed into a big green salad and drizzled with Ranch dressing.
Spoon out as much as needed, add some chopped tomato and avocado, and stuff it into tortillas with grilled chicken or shrimp for AMAZING tacos.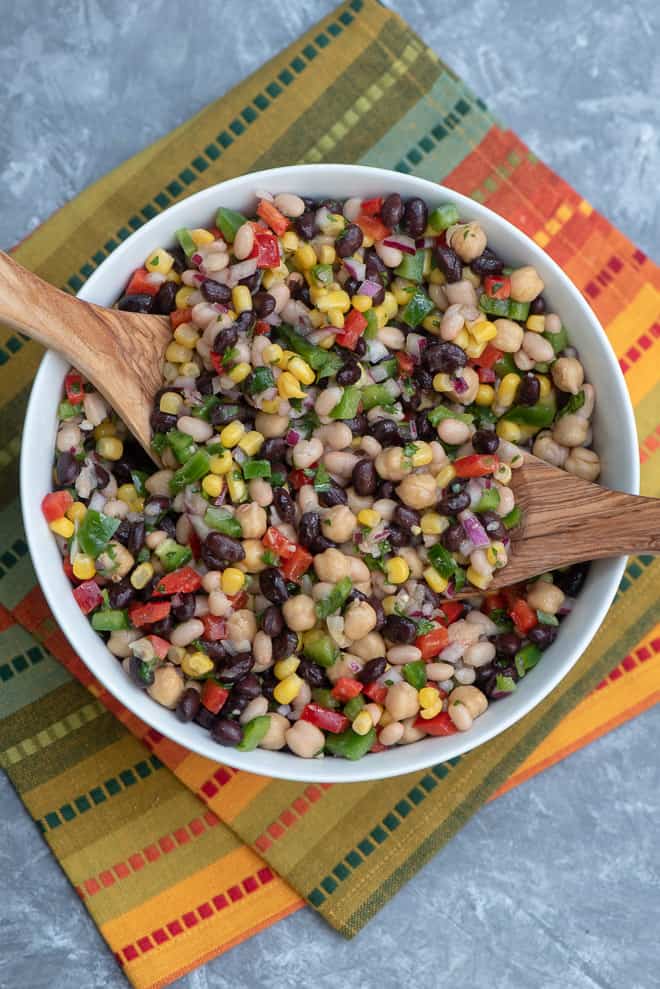 Colorful, flavorful, and versatile.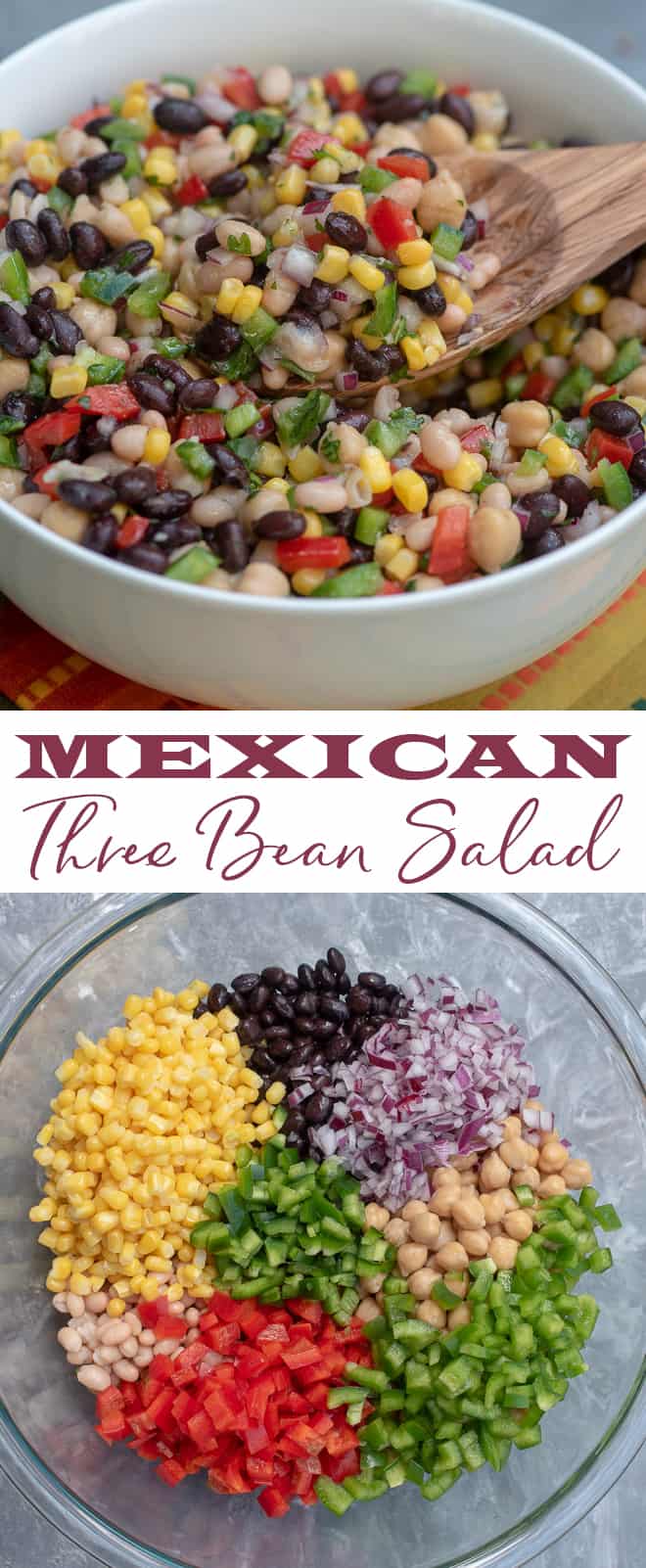 Mexican Three Bean Salad
Prep Time 10 minutes
Cook Time 2 hours
Total Time 2 hours 10 minutes
Servings 8
Change the number in the box above to adjust serving size. Please note that size of cookware and cook time may vary.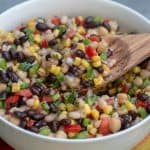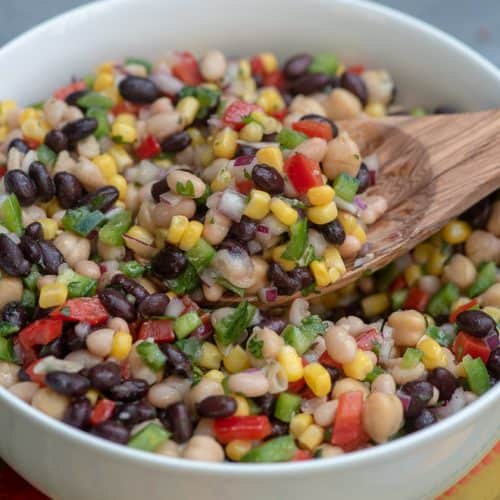 Ingredients
15 ounces canned white beans , rinsed and drained
15 ounces canned garbanzo beans (chickpeas), rinsed and drained
15 ounces canned black beans , rinsed and drained
1 cup frozen corn thawed and drained
1 cup diced red onion
1 small green bell pepper seeded and diced
1 small red bell pepper seeded and diced
1 jalapeno seeded and diced
1/3 cup chopped cilantro or fresh Italian parsley
For the dressing
1/2 cup olive oil
1/4 cup apple cider vinegar
1 lime juiced
2 tablespoons sugar if you like a sweeter dressing use 3 tablespoons
1 teaspoon minced garlic
1 teaspoon salt plus additional to taste
1/2 teaspoon cumin
fresh ground black pepper to taste
Instructions
In a large bowl, combine the beans, corn, onion, bell peppers, and jalapeno pepper.Add all of the dressing ingredients to a small bowl or measuring cup and stir to combine well. Add as much as desired to the bean mixture (it should be well saturated) and toss to coat the ingredients well. Sprinkle with the cilantro or parsley and stir again.

Cover and refrigerate for at least 2 hours before serving.It will keep well for several days if stored in an airtight container in the refrigerator.
Nutrition
Calories: 325kcal
Fat: 15g
Saturated fat: 2g
Sodium: 648mg
Potassium: 621mg
Carbohydrates: 39g
Fiber: 10g
Sugar: 4g
Protein: 10g
Vitamin A: 350%
Vitamin C: 28.3%
Calcium: 83%
Iron: 3.7%
Course Appetizer, Salad
Cuisine American, Mexican