Southern style mustard potato salad is the perfect side dish! Boiled potatoes are mixed with crunchy celery, cooked eggs, and a creamy mustard dressing in this classic southern recipe.
Disclosure: I collaborated with Ovation TV to bring you today's southern style mustard potato salad post. I will be compensated for it, but all thoughts and opinions are my own.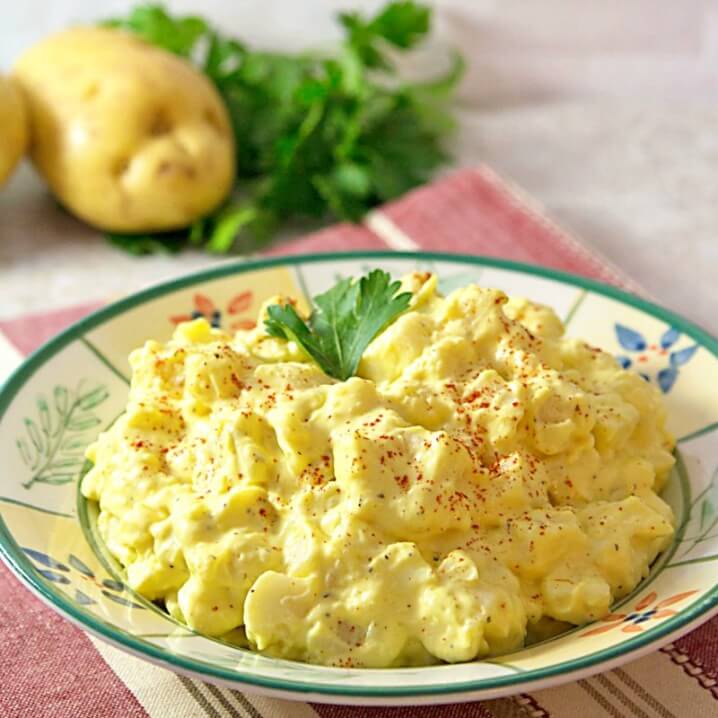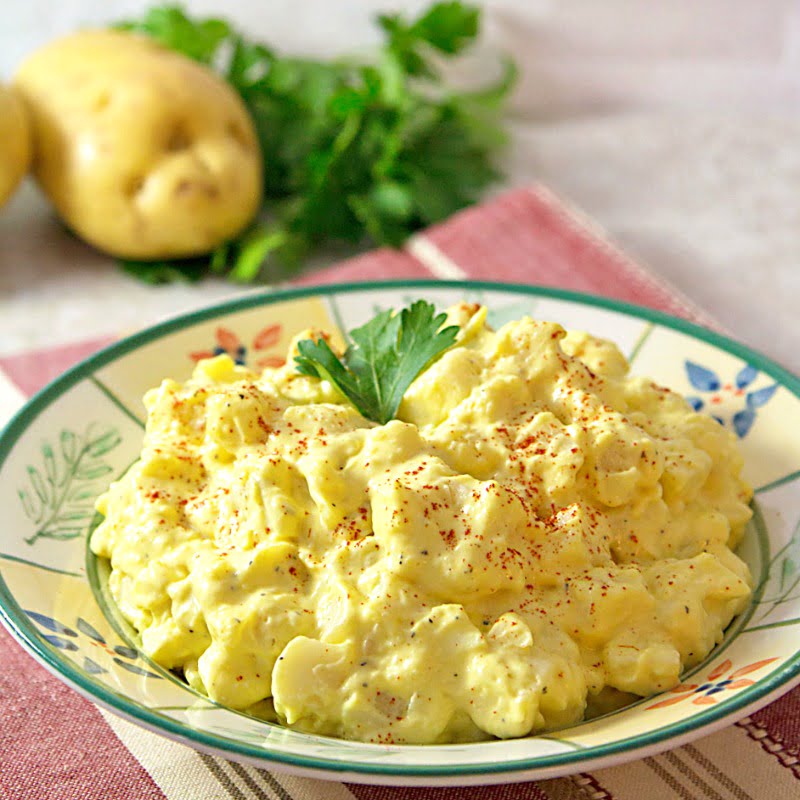 Because I'm a born and raised Wisconsin girl, you won't see authentic southern recipes from me very often. So far, the closest I've come to true southern cuisine is with my skillet bacon cornbread recipe. Even that isn't completely authentic, because I added cheddar cheese to the recipe. Seriously, how could I not add cheese? I live in the Dairyland state.
Things changed when the folks at Ovation TV, America's only arts network, sent me information about their new series, Southern Uncovered with the Lee Brothers. I'm excited to tell you about it, but what kind of chef would I be if I didn't make a southern recipe to go along the news.
My mom was born in Tampa, Florida, so there's a tiny bit of southern blood mixed into my roots. Once upon a time, I took a trip with my mom down to Tampa, to visit a relative of hers. We were welcomed with southern hospitality, and a lot of food!
Honey ham, corn muffins, collard greens, and delicious southern style mustard potato salad that tasted just like this one does.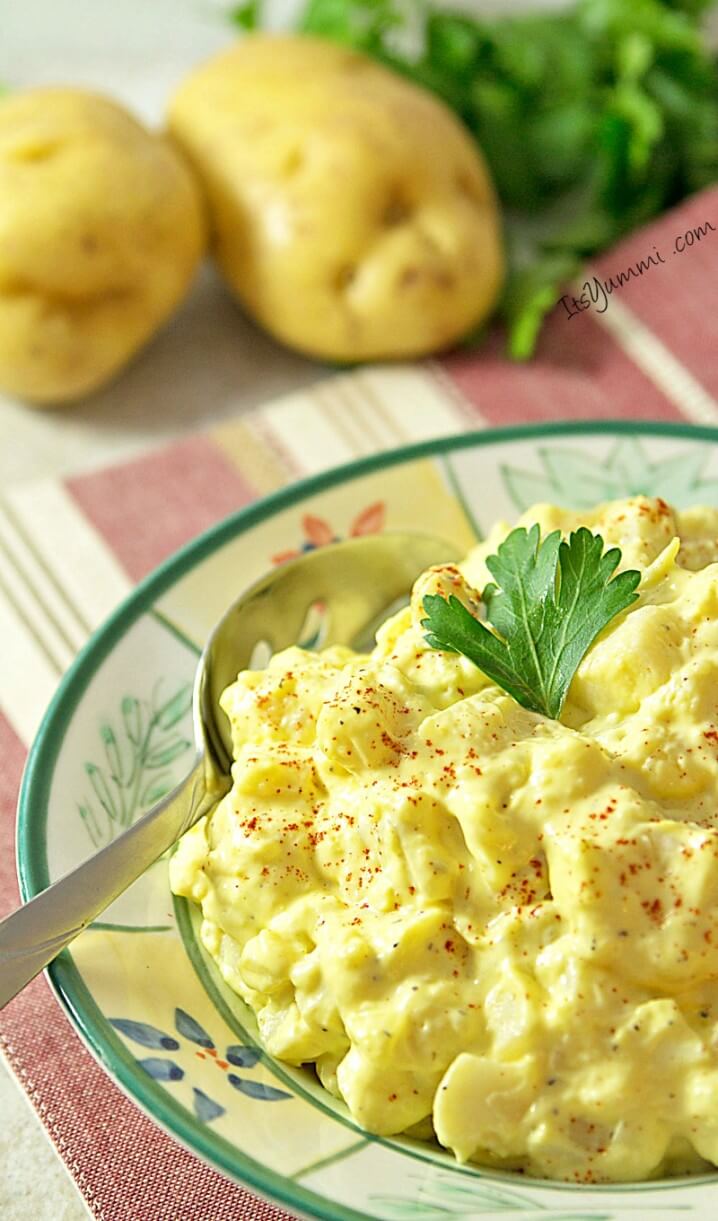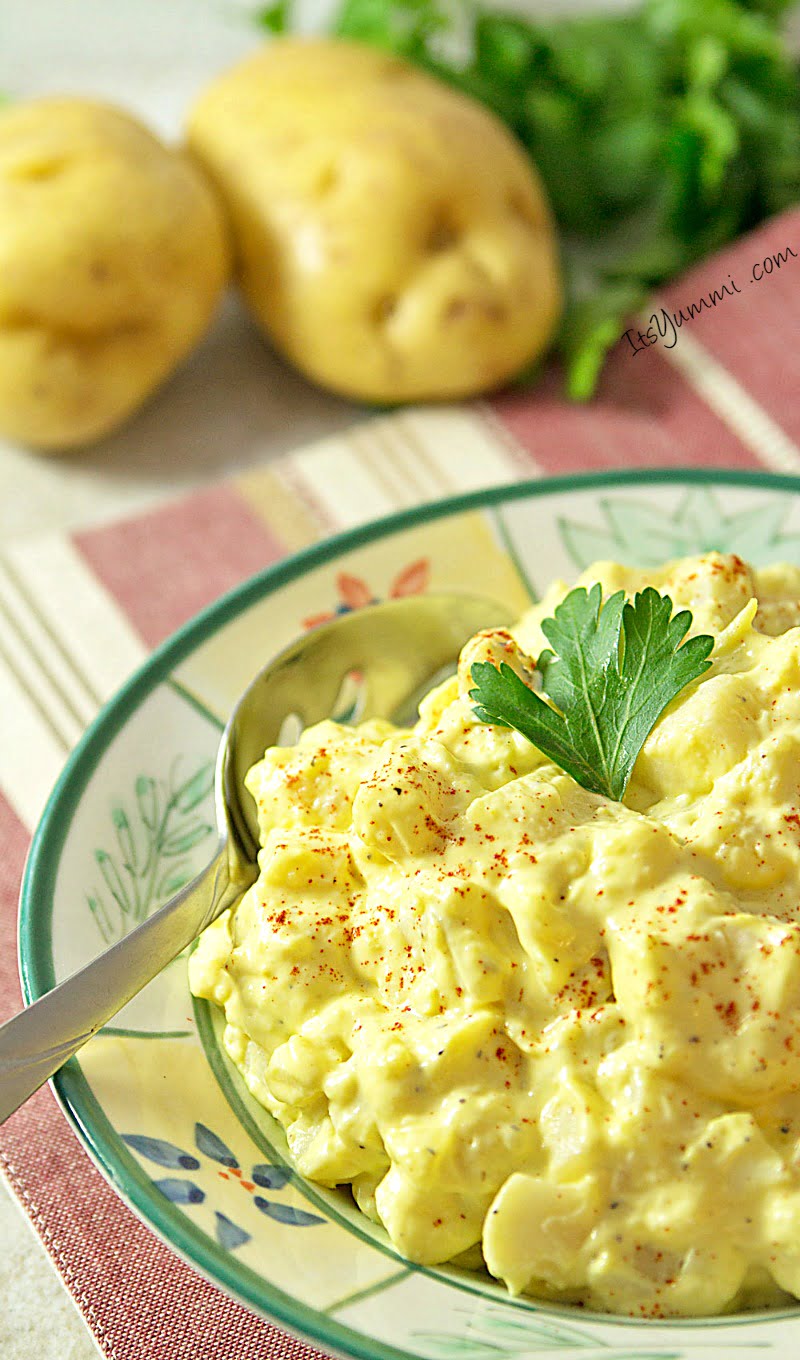 How do I know this? Well, to be honest, I don't know that it's an identical carbon copy. But I do know that it's darned close, because I tweaked the ingredients over and over. I kept at it, until I was able to take a bite, close my eyes, and be transported in my mind to that charming southern home.
The great thing about many potato salad recipes is that they're versatile. It's easy to adapt and tweak ingredients to suit personal tastes or dietary restrictions. It's important to taste and season as you go, but remember that the longer the potato salad sits in the fridge, the more intensified and developed the flavors will become.
For the better good of your southern style mustard potato salad, please make sure that you're using crisp celery!
Biting down on mushy celery is horribly gross. If your celery suffers from a limp celery affliction, check out my tips on storing celery to extend the shelf life.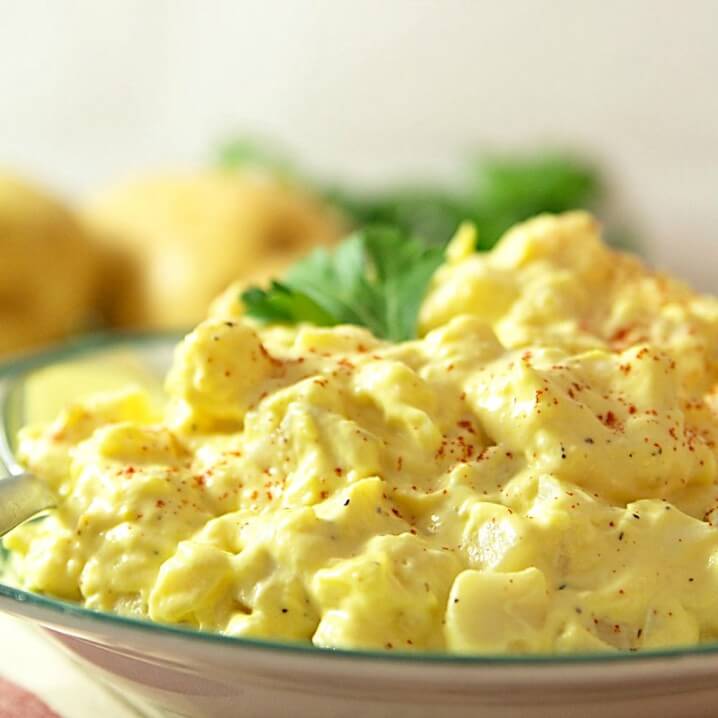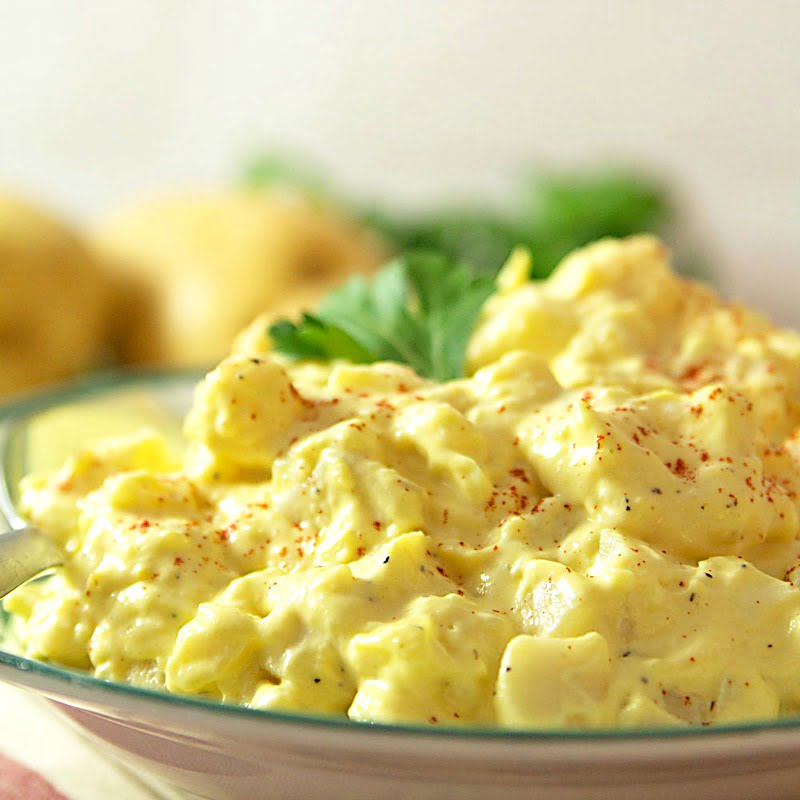 My southern style mustard potato salad recipe is at the bottom of this post.
But first, for those who missed the premiere, I want to pass along some show information. Next week's episode airs on Sunday, June 21st, so be sure to check it out.
SOUTHERN UNCOVERED WITH THE LEE BROS
Premiere Date: June 14, 2015 8 EST/7 CST pm
Next Episode: June 21, 2015 8 EST/7 CST pm
Official Site
Series Sneak Peak 
Show's Facebook Page 
Show's Twitter Account
Chefs Matt and Ted Lee grew up in Charleston, South Carolina and are founders of The Lee Bros. Boiled Peanuts Catalogue. Their three cookbooks, The Lee Bros. Southern Cookbook (2007), The Lee Bros. Simple Fresh Southern (2009), and The Lee Bros. Charleston Kitchen (2013) have combined, won six James Beard and IACP Awards. They bring a richer understanding of southern cooking into the mainstream, something they're quite proud of.
As an entry level chef, the recipes, cooking style, and personality of the Lee brothers intrigues me. They've perfected their talent over decades of experience, serving up recipes with plenty of southern charm.
In each episode of Southern Uncovered, Matt and Ted explore a different city in the South, seeking to expose the unique and unexpected sides of Southern cuisine and culture. The brothers aren't afraid to get their hands dirty – or to lace up their dancing shoes – as they introduce us to the people, places and amazing plates that define the South, beyond the stereotypes. Over the six-episode series, Matt and Ted will introduce viewers to the food, art, and culture of Charleston, Atlanta, Dallas, New Orleans, Asheville, and Louisville.
I think the show sounds like it'll be really popular.
And I also think southern style mustard potato salad is the perfect food to watch it with, don't you?
Here's what the brothers have to say about the show:
"With Southern Uncovered we have an opportunity to share what we love about the South, while also giving people a fresh spin on its food and rich cultural history," says Matt Lee. "Along the way, we aim to challenge a few preconceived ideas about southern style and living by introducing viewers to some stereotype-busting and inspiring ideas, people and places."
"For years the South has held a reputation as being a mecca of culinary genius," continues Ted Lee. "But still, some folks think southern cooking is all overcooked and over salted. We're on a mission to celebrate the ground-breaking champions of the new Southern culinary movement, while also exploring how Southern flavor influences the culture in all the cities we visit on the show."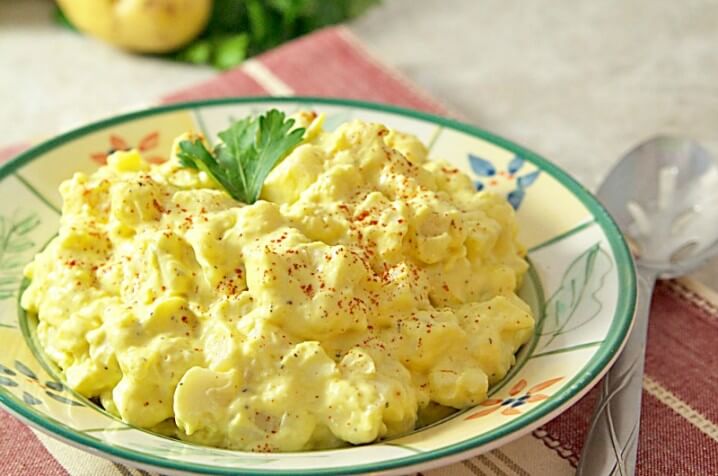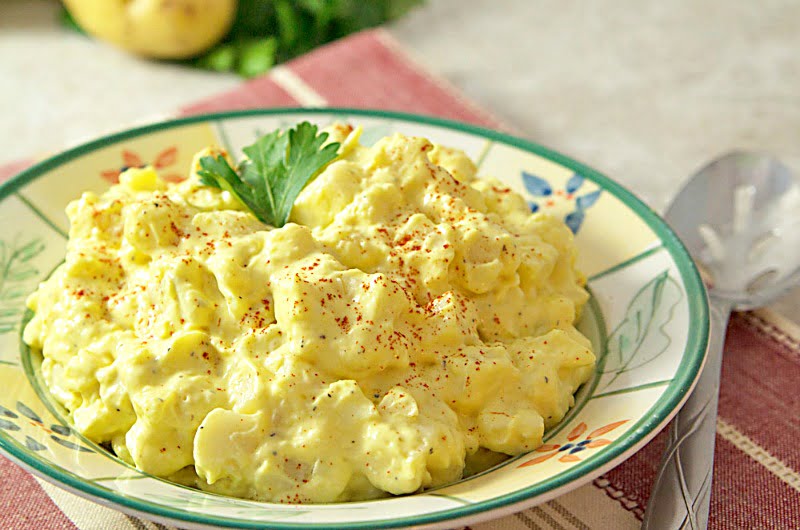 Here's the recipe, so now you can go make some southern style mustard potato salad!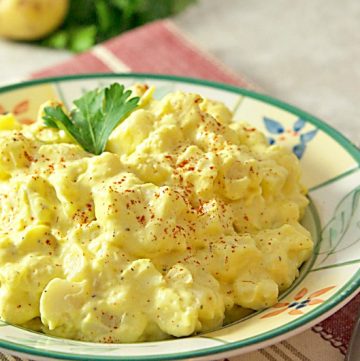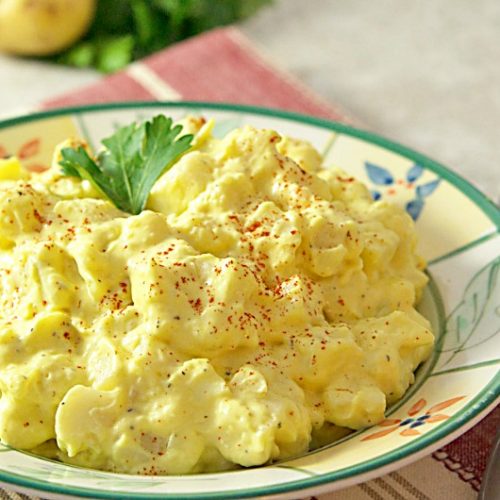 Southern Style Mustard Potato Salad Recipe
Tender potatoes, crunchy veggies, mustard, eggs, and a creamy dressing make this easy potato salad recipe a family favorite.
Print Pin Rate
Ingredients
2

pounds

russet potatoes

,

peeled and cubed (4-5 potatoes)

1.5

teaspoons

salt

5

large

eggs

,

hard-boiled, peeled and smashed lightly with a fork

2

stalks

celery

,

finely diced

1

small

Vidalia onion

,

finely minced

1/2

cup

dill pickle relish

,

plus 2 Tablespoons juice

2.5

Tablespoons

prepared yellow mustard

,

(or creole style for extra kick)

1/2

cup

real full-fat mayonnaise

1/4

teaspoon

salt

,

(more or less to suit your taste)

1/4

teaspoon

black pepper

,

(more or less to suit your taste)

Hungarian paprika

,

for garnish
Instructions
Add 4 quarts of water to a 6-quart pot and bring to a rolling boil over high heat. Add potatoes and salt and

cook until potatoes are just starting to fall apart, about 10 minutes..

Drain potatoes well in a colander and return them to hot pan for a minute to dry out excess water.

Place the potatoes, eggs, celery, onion, pickle relish and juice into a large mixing bowl.

Add half of the mustard and mayonnaise and stir well to combine.

Add enough of remaining mixture to give the potato salad a creamy consistency, but not too wet.

Add salt and pepper, adjusting to taste if needed.

Refrigerate until ready to serve. The longer it sits, the more the flavors will meld together.

Just before serving, sprinkle with paprika.
Notes
If you like your potato salad to have more of a bite, reduce the cooking time of the potatoes, but for food safety purposes, be sure that they can be pierced easily with a fork before consuming them. (Raw potatoes contain anti-nutrients, and they can also contain a potentially lethal toxin, especially if they have a green color.)
Recipe Nutrition
Nutrition Facts
Southern Style Mustard Potato Salad Recipe
Amount Per Serving (1 serving)
Calories 301
Calories from Fat 162
% Daily Value*
Fat 18g28%
Cholesterol 162mg54%
Sodium 1165mg51%
Potassium 589mg17%
Carbohydrates 26g9%
Protein 8g16%
Vitamin A 330IU7%
Vitamin C 7.1mg9%
Calcium 47mg5%
Iron 2.1mg12%
* Percent Daily Values are based on a 2000 calorie diet.